Pub News Archive pre Nov 2020
Our members are our best source of information about the 200 pubs in our branch area so help us to keep your fellow CAMRA members up to date.
As your local CAMRA branch our aim is to promote pubs and pub going so if you visit a local pub or club please let us have your feed back by contacting ku.gro.armac.kloffustsew@retsambew and we'll put your news on this page to keep your fellow members informed and up to date. With pubs closing every week your news could help to keep your local open
Disclaimer: Please be aware that any reviews or comments expressed on this web page, be they good, bad or indifferent, are those of the reviewer only and their appearance on this website does not mean that they are endorsed by West Suffolk and Borders branch of Campaign for Real Ale (CAMRA)
Jan 21 2019 This news update on some Sudbury area pubs just in from member Peter

I visited some pubs yesterday, including a visit to the Brook in Cornard, please see brief updates & reviews below:
The Brook, Great Cornard. Preliminary review Cornard's only free house says the sign outside an unpromising exterior, however the interior is cosy & well kept. There are 4 cask ales on hand pump including 2 from Colchester Brewery. Plus GK IPA & an American Style IPA. On keg we have Ghost ship along with the usual suspects of Magners, Guinness and lagers etc.The pub has 2 bars & offers pool plus bar billiards, with a fruit machine as well. I get the feel that it is a community pub, the locals at the bar all seem to know one another and the bar staff . This being a Sunday lunchtime there is an array of cheese & biscuits on the bar for customers to nibble on. My pint of Colchester Brewery No 1 is served well & is in very good condition. Overall it's an enjoyable visit & I look forward to returning for a more in-depth review.
The 5 Bells, Great Cornard. Update I visit this pub 4 or 5 times a year & I always feel welcome here. I get the feel that it is a real old fashioned community pub. There are four cask ales, on handpull, Ridley's rite, Addams broadside, GK IPA, Ringwood Razor Back, plus GK XX mild. This being the only pub in the area to serve the latter. I have a brief chat with the manager & she tells me that she has recently removed the fruit machines & the juke box, which further adds to the old fashioned pub feel. On my visit, there is a good crowd of regulars in all enjoying a pint & a natter. Overall a very nice community pub.
The Bay Horse, Sudbury. Update One of my favourite pubs in Sudbury, the Bay Horse has 7 cask ales on plus some unusual keg beers. Of the 7 ales Woodfordes Wherry & Adnams Southwold bitters are regulars, with the remaining 5 ales rotating. The pub also serves Theakston Barista coffee stout, woodfordes conquest and adnams dry hopped lagers. They also serve some of the latest "Designer Gins". The pub has music every Saturday night & Sunday lunchtime, the Sunday session also has free food for the crowd. In the summer the music is in the garden with a free BBQ. The pub is very popular & has a large cast of regulars who are on first name terms with the friendly bar staff. The pub also has a pool table & a TV behind the bar with BBC News on 24/7.
I'm planning on visiting the Cock at Clare next weekend, and will be sending back the GBG survey forms for pubs in the Sudbury area by end of Jan.
Nov 27 2018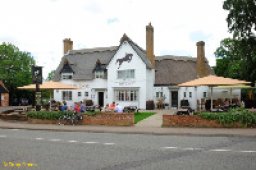 The Cock Horse in Lavenham has new owners.
In an East Anglian Daily Times article published today, the new owners are quoted as saying "We have worked very hard on the new design and to break up the pub into areas of those who want to relax and enjoy a comfy dining experience, a romantic meal out or enjoy the latest sporting events in our bar area."
The pub officially reopens this Saturday 30th Nov. 2019.
Also news today from Chris in Haverhill
The Nine Jars in Haverhill has recently installed its first handpump. It was off today as the barman said they aren't selling much and are still raising awareness that they now sell real ale. The beer that was on was London Glory which may explain why it didn't sell. I'll revisit during a busier time.
It isn't on WhatPub which I will correct later.
Sep 29 2018
Rattleden Brewers Arms has reopened. Now called Brewers dropping the Arms
Sep 07 2018
Planning applications for two village pub sites refused. See more here https://www.buryfreepress.co.uk/news/homes-plans-for-pub-sites-given-red-light-9043502/
Aug 28 2018
This latest report by Suffolks' Pub champion Tony features pubs in the northwest of our branch area
Brandon Flintknappers. Now being run by Craft Union. On the evidence of their pub in Ipswich that means cheap though unimaginative ales. Maybe they'll be better kept than the piss-poor ones here.
Brandon Great Eastern. After a couple of years as "Monza's Place", this seems to have reverted to its original name, though it appears that much of the building is now occupied by Orient Express Buffet: All you can eat Chinese, Thai & sushi. Pub's 'phone number now 01842 338161, website thegreateasternhotel.com - there's also accommodation.
Mildenhall Maid's Head. GK signage has all been removed, though peering through the window, I could only see GK ales on the bar, so possibly only a prelude to another re-paint?
Barton Mills Bell. Looking incredibly tatty and run-down. If there hadn't been lights on inside and an obviously recent Bombardier poster outside I'd've thought it was closed.
Icklingham Red Lion. Allegedly due to open this summer. There are obvious signs of work actually having started, with the barn next to the pub apparently being rebuilt (or demolished, it's hard to tell) and a lot of building materials about. I can't see it reopening for a few months at the very least though.
Flempton Greyhound. Still appears empty. Though ironically the pub sign is still in a far better condition than many open pubs' signs!
Aug 26 2018
SAD news recd via Twitter today about Troston Bull
Good morning to all our customers. I'm sorry to inform you that as of 2pm yesterday the Troston Bull has closed for business until further notice. I'd like to thank all of you that have supported us over the past year and wish you all the best for the future.
July 31 2018
Good news: A campaign to save The Marquis Cornwallis in Chedburgh near Bury St Edmunds has recently gained support.
The new Marquis Community Hub will now receive a package of specialist business advice and a £2500 bursary from More Than A Pub. The unique two year programme has been established to help support community ownership in conjunction with The Plunket Foundation
For more information visit www.facebook.com/SavetheMarquis
July 14 2018
Word is the Six Bells in Horringer just outside Bury St Edmunds has repopened which is good news. Now confirmed
July 3 2018
Queens Head in Churchgate Street, Bury st Edmunds which has been closed for while looks set to reopen whether as a real ale pub or not we don't yet know. Watch this space for news
June 8 2018
Glad Abbot rumoured to have closed in May 2018. If you have any news about this please let us know via contacts page
May 24
Apr 23
Report by Pubs Officer Andrew.
A good start to Meet Up Monday's in Suffolk. Sally from Rural Coffee Caravan organised and Hannah, landlady of the Beyton Bear, hosted. This is a real meeting of minds between licensee, RCC and CAMRA - get everyone together down the pub. Funny, my dad said that's what they used to be for. Nah, surely not.



Apr 16
Report by Suffolk Pub Guru Tony.
Reopens at the weekend under new ownership and with a new name, the Riverside, a restaurant and bar. There's a separate bar area as well as the restaurant



Apr 7

Pic top Cockfield Horseshoes
Outside April PoTM Brent Eleigh Cock

April PoTM report by Andrew.
Spring had allegedly sprung on this grey Saturday afternoon but our enthusiasm was undiminished as we headed for our first stop at Cockfield Horseshoes, a pub that wears its CAMRA recognition with pride. As usual we found Adnams Broadside and Southwold Bitter alongside house beer supplied by Black Sheep and Nethergate's Growler Bitter. The Broadside immediately became a candidate for Beer of the Day and the company settled down around a splendid old 12 seater table in the former conservatory. The latter is now a legitimate extension of the original 14th century building and includes timbers salvaged from local barns. For those not familiar with the Horseshoes, it had previously been rather unsympathetically refurbished but thanks to the efforts of Lloyd and Jessica it is now back to its former glory. A really lovely old pub. On our patch most estate pubs come with gamekeepers so it was no surprise that our next stop and our Pub of the Month, The Cock at Brent Eleigh, looked similarly venerable. James and Deborah clearly have no truck with the sports bar business model! On the bar we found GK Abbot, Southwold Bitter, Lacon's Oat Meal Stout and Abrahall's Slack Alice cider. We received a very warm welcome from the locals and were all massively entertained by the rather eccentric looking old Citroen that someone had apparently abandoned in the car park. Another lovely old pub!
Onward to Bildeston King's Head, home of the eponymous brewery and a veritable new build from the 16th century. We've been to some cracking beer festivals here but this afternoon it was a very peaceful and relaxed scene in the bar. I love the sign warning of the fate of badly behaved children but will not quote it out of respect for more sensitive readers. Suffice it to say there were none present. Beers available were Mauldon's Mole Trap and 2 from the house brewery, King's Best and Brett Side, along with Burnard's Red Rosie cider.
We carried on to Rattlesden only to find ourselves too late for the reopened Brewer's Arms (16th or 17th century for those taking notes) - sorry folks, hopefully, we'll catch you next time. However, the relatively youthful looking Five Bells was open and busy serving St Austell's Proper Job, Crouch Vale Gold and Wolf's Edith Cavell. The Bells is a pub that continues to confound the notion that you can't have a wet-led pub in a village - perhaps someone needs to do a case study? The prices are notably user-friendly too and I was left wondering if this pub gets the credit it deserves.
Our last stop was Beyton where sadly we were too late for the (17th century) White Horse but The Bear was still open. Apparently, The Bear was rebuilt in 1900 after the original thatched building burned down. More recently it has been remodelled inside and while this is not to everybody's taste it is now a rather more practical layout. Major points for keeping a dedicated bar area with a bar that drinkers feel comfortable at. Nice to see the old pub sign although I do like the new one too. As we arrived one of our number made the remark at the head of this article and nearly caused our driver to further reconfigure the building. Beer-wise there was Old Cannon Brewery's Best and Gunner's Daughter plus one more but I'm afraid I can't read my notes - goes with the territory I'm afraid. At the death, the Gunner's stepped up with an impressive performance to just nick Beer of the Day! Well done Bear, and, indeed well done driver Martin who once again laid down his pint for his branch.



Mar29
From regular contributor John. Went for lunch at The Bush Inn yesterday at about 12.40 — lucky to get in ! Coach parked outside and car park nearly full - got last table.They even turned some people away after our arrival. Beers on:- Woodford Wherry 3.8% Colchester No 1 4.1% Charles Wells in assoc.with Mauldons Golden Ale 4.3%
I had the last one which I had never heard of. Very light in colour and texture,but a surprising 'bite' considering the Abv' They coped well,47 off the coach and a further 10 in the bar area - all eating. Guy behind the bar said they had 50 in for lunch on Wednesdays well. Very nice pub. That's twice we've been this month, 10 out of 10
Info: The Bush Inn, Shimpling, Bury St. Edmunds, Suffolk IP29 4HU web site: http://www.thebushinnshimpling.co.uk/



***
STOP
PRESS
***

Pakenham Fox is West Suffolk CAMRA Pub of The Year 2018.

From pub re-opening to the winner of Branch Pub of The Year in less than two years.

For more on this and winners in other categories click here
Mar 16 Branch Pub of The Year awards announced by Branch Chairman Martin Bate.
I am pleased to announce the winners of this year's Pub of the Year and Cider Pub of the Year competitions.
West Suffolk and Borders Branch: Pub of the Year 2018
PUB OF THE YEAR: Pakenham Fox
Town Pub of the Year: Bury St Edmunds Oakes Barn
Rural Pub of the Year: Pakenham Fox
Congratulations to Pakenham Fox which wins our local branch Pub of the Year for the first time. As many of you will be aware after a lengthy closure the Fox re-opened in August 2016 trading as a free house and offering four real ales. The pub has been smartly refurbished and was awarded the branch Pub of the Month in February 2017. Risen like a phoenix from the ashes the pub returns as the heart of the village community and has been voted the pub of the year in 2018 by a clear majority.
Congratulations also go to Oakes Barn in Bury, a former winner of Pub of the Year, which cliched the Town award in 2018 by a slender majority.
Awards will be made to the winners in due course.
West Suffolk and Borders Branch: Cider Pub of the Year 2018
CIDER PUB OF THE YEAR: Bury St Edmunds Dove
The Dove was one of a number nominated by members and has been judged Cider Pub of the Year for 2018. Cider drinkers visited the nominees using the CAMRA Cider pub judging criteria and the Dove emerged as a clear winner.
Congratulations to the owners and staff for serving a good range of cider styles and helping to keep real cider alive in West Suffolk.
Awarding of the Cider Pub of the Year will take place during May which is CAMRA Cider Month.
=====================================================================================
Mar 11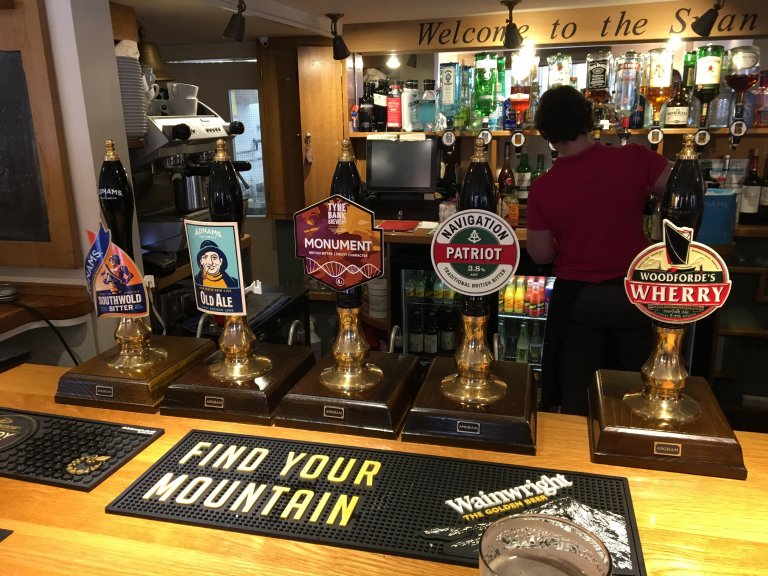 Popped into Lawshall Swan for lunch yesterday. Had an excellent burger but the beer was the star. How many village pubs keep 5 beers? I've never seen Navigation brewery south of Derbyshire and Patriot is new to me. As for Tyne Bank, that's a brewery I've never heard of before and their Monument was a real find. I can confirm both the latter and the Adnams Old were in great condition. How nice to see such care taken with beer selection.
Get the distinct impression Andrew our Pubs Officer was impressed. Ed.
The One Bull on Angel Hill in Bury St Edmunds is getting a lot of publicity in the local media following its reopening last month. The One Bull's owners recently held a dinner for some of the firefighters who helped to save the pub when a neighbouring property caught fire in September last year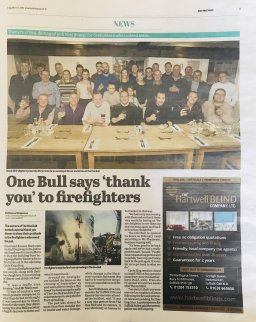 Picture from @theonebullbury
Feb 2 Regular Pub News contributor Stuart has paid a visit to the south of the branch area this time.
As promised, a few notes from Sudbury. After having been for a dental appointment I ambled over the road to Wetherspoons, not every ones favourite I know, and had a very decent pint of Mauldons Black Adder. Again, I normally do not go for dark beers, but this was exceptional a truly delicious beer. It was also very good to see not just one but three Mauldons beers on the bar - talk about Locale!!!! I then wandered down to a pub I always forget about in Sudbury, The Angel, in Friars Street. An "A" board in Market Hill announced that it was open from 12.00, all day and serving food and cask ales. Upon arrival at 12.15 the front door was locked, the side door directed me back to the front door which was still locked. After knocking and pushing I gave up and walked away and ended up in the Black Boy - the first time I had been in here for over 10 years. It was quiet for a market day, me being the only one in. I recall a regular pool of lunch time drinkers in there in times past but these were absent and the pub seemed to be concentrating more on food. Never the less the pint of St. Austell Tribute was in fine condition and I did meet an old colleague who arrived just as I was leaving. A couple of days later I was again in Sudbury to survey pubs for the Good Beer Guide and arrived at Mauldons Brewery Tap and enjoyed an excellent pint of Oakham Inferno - a difficult choice as there were 9 cask beers to choose from.From there to the Waggon and Horses and a pint of Nethergate Stour Valley Gold. Decent pint but a little too cold for my taste. Then on to the Bay Horse where yet again I was met with a choice of 9 beers and ended up with Fullers Oliver's Island in prime condition. The others were too many to mention other than Woodforde's Wherry which is the only permanent fixture on the bar, all the others changing regularly. Then to the Prince of Wales in New Street which was supposed to be open at 12.00 but at twenty past was still shut - ah well back to the bus stop and home.Cheers until next time.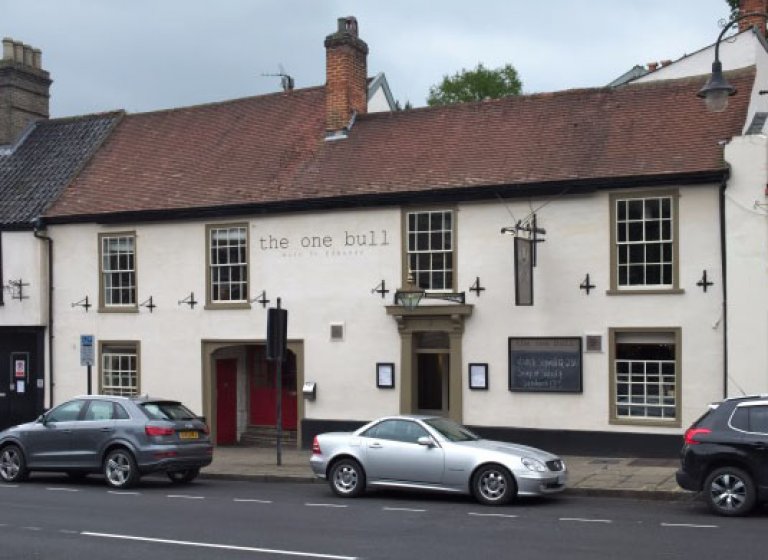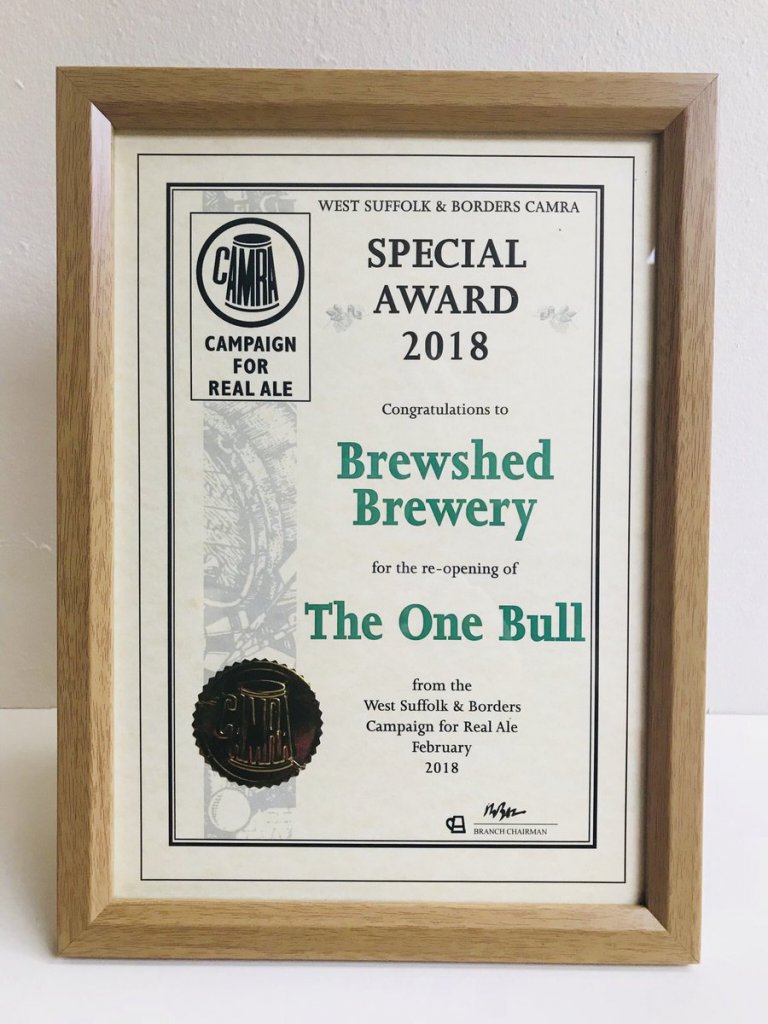 Feb 1 The One Bull pictured above, reopened following the devastating fire last autumn. West Suffolk and Borders CAMRA presented a certificate to mark the event.
The Exning Factor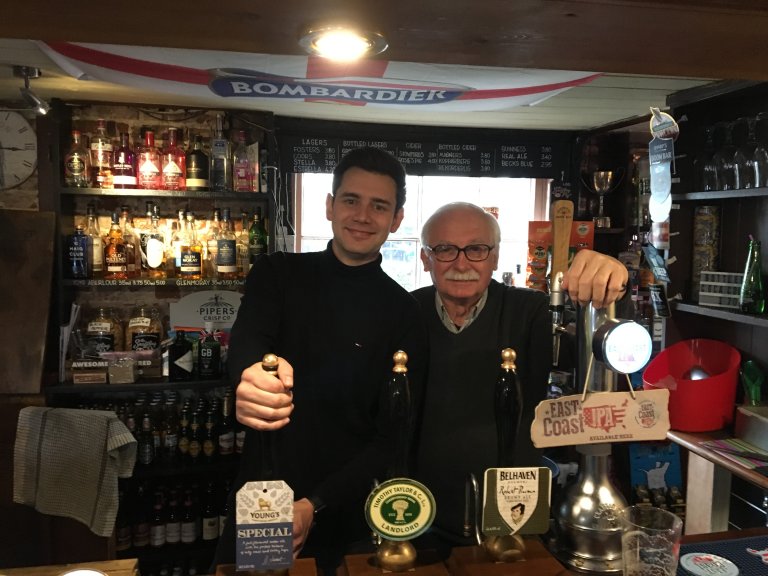 A different aspect of pub news from our Pubs Officer Andrew
It's long been my personal opinion that what the country is short of is not pubs, but people who know how to run them. Of course if the pub is demolished to make way for a new supermarket there's nothing left to run, but there is, at least in our branch area, a strong correlation between good hostelry and experienced licensees. As in most walks of life there is no substitute for experience; however, one Suffolk landlord took matters a step further by actually being born in the pub. John Welford's family's connection with The White Horse at Exning, just outside Newmarket, goes back even further, to 1935 when his grandparents, Alfred and Jesse, moved in. Since then, the license has been passed along to various family members and came ultimately, in 2004, to John himself. Anyone who has been in The White Horse will have met him; he is a real old fashioned landlord who revels in the sort of front of house role that seems to be sadly out of favour these days. Born in The White Horse in 1949, John should in fact be Michael: it had been agreed that he be named Michael John but the christening breakfast, held, naturally, in The White Horse, was extremely thorough - to the extent that he was mistakenly named John Michael. His mother, a deeply religious lady, would not countenance any change. This incident has to be a lesser known peril of the trade. One of John's early memories of the pub are of being given a money box. Showing early signs of the entrepreneurial spirit he duly placed it on the bar where the regulars were quite happy to deposit the occasional bit of loose change. It took him six months to get a whole pound. More demanding was his first job there as bottle man. There was more to this back then than you might think, as almost everyone drank either draught mild or bitter topped up with a bottle. The pub carried several bottled light bitters, stouts and milds totalling over a dozen different beers. Perhaps this has something to do with the quality of the draught; John is less than complimentary about beer BC (before CAMRA) and credits our organisation with being a major force in driving up beer quality. One of his early experiences of other pubs was with his father - another John. To much laughter, his father addressed the landlord thus: "If the bits in it are smaller than cornflakes, I'll have a pint." John junior wisely stuck with Vimto but the landlord's claim that "you can't get the quality" tells its own story. Some breweries were, of course, better than others (no names, no pack drill) and it really paid to check the pub sign before you went in. I could tell similar stories from the Midlands. However, back then a pub that simply unlocked its doors could make you a living. There was no food, no jukebox, no fruit machines and, as the previous incident demonstrates, you didn't even need good beer! The biggest difference with the modern trade, in John's eyes, is the constant need to change that seems to drive some pubs to relaunch themselves every ten minutes. Nowadays you simply cannot stand still. For John, running a pub is a calling and if one considers some of the characters you can meet behind a bar it's hard to argue. Trying to look at things from the other side, I asked him what sort of customer behaviour he is least keen on: "Holding beer up to the light when they don't know what they're talking about" And your worst customers? "I can't tell you, one of the worst still comes in." He calls himself "a pub person" and he does give the impression of someone equally relaxed on either side of the bar. His idea of relaxing is reading the paper in a pub, not necessarily his own, after walking the dog. Perhaps he's satisfied with this busman's holiday approach from the time he was taught how to play shove ha'penny and crib by retired Jockey Manch Davies from - you guessed it - Manchester. He knows it's OK to have fun in a pub! Beer-wise his favourite tipples are Fullers ESB, Bateman's XXXB and Courage Directors. While not dismissive of the "craft revolution" he feels it to be style-led and prefers to stick to his more traditional favourites. It won't surprise you, I suspect, to hear that this landlord of a Pub Co pub regrets their lack of feeling for the very establishments that make their money. "If only they had the same feelings for pubs as a landlord." He calls it an "impossible dream". However, it's only fair to point out that he was full of praise for PunchTavern's cellar course. And, guess what? It's run by an experienced beer man.
Before taking over The White Horse as licensee, John ran the Cabaret Club in Newmarket while continuing to help out his father with the managing of the pub. However, with acts such as The Drifters and Les Dawson booked - Tommy Cooper died a week before he was due to appear - the club took up most of his time. He also spent ten years in America before returning home to continue the family tradition as licensee in 2004. However, there was always a Welford at the helm back in Exning and John is very pleased that son Jack has taken over, the fourth generation of the family to stand behind the White Horse bar. Long may they continue. Hopefully, sometime in 2035 somebody will be typing away in celebration of 100 years of White Horse Welfords.
Latest pub info from member Andrew highlighting one of the advantages of being a townie
Took the long way home via GK's Beer Cafe (pictured) .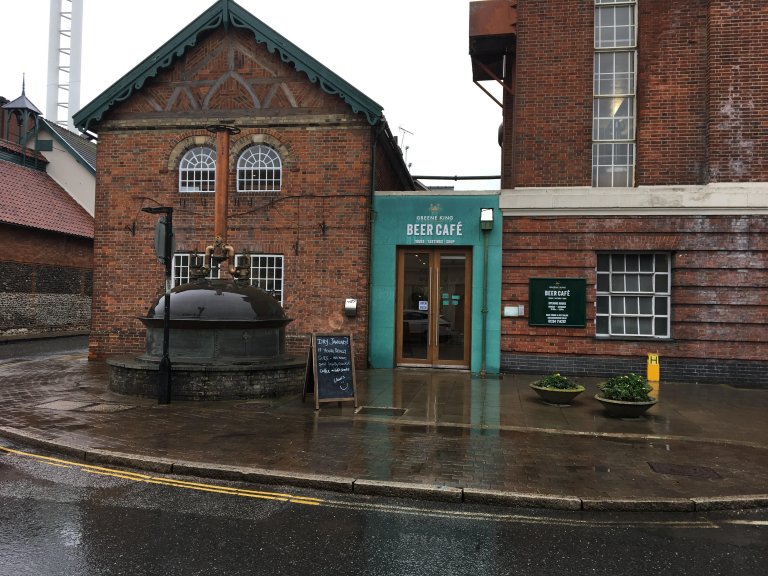 Very friendly and chatty staff and an interesting pint of the new Suffolk Pale. I've always wondered how a place that's, let's face it, rather hidden away can turn over 6 beers but still maintain standards. Surely, the brewery trippers can't drink that much? I'm told they do good business with the theatre over the road, believable as the in-house bar has always failed to impress me. Off along Westgate to the ever-lovely Rose and Crown and a pint of A&B (Abbott and IPA Bitter). Why don't Greene King celebrate this pub more loudly? It's the bench mark for GK beers and a real jewel in any crown. Over the smart new roundabout to Hospital Road and The Dove, my local so I shall declare an interest. Still can't get used to seeing Adnam's in here but the Broadside is excellent. Overall, a nice little pub crawlette
Jan 12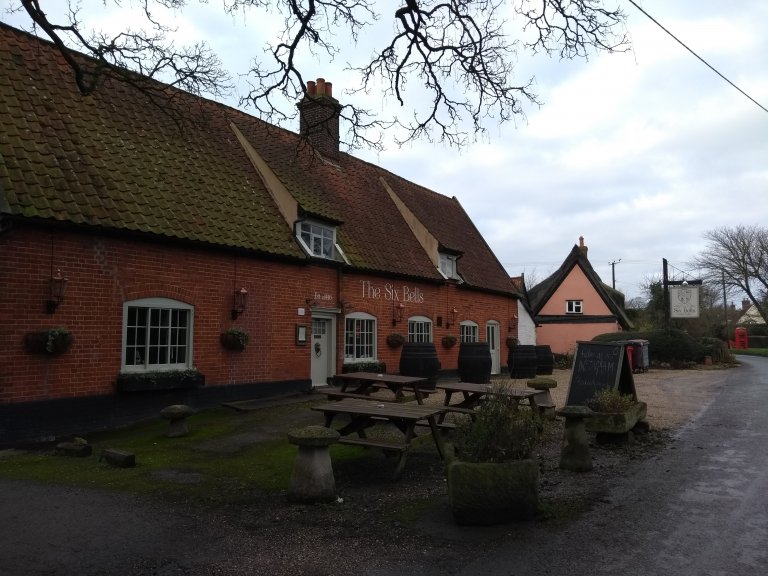 As part of doing some Pub Walk research near Lavenham came across The Six Bells in a lovely village called Preston St Mary. My first impression on entering the pub was a slight disappointment at seeing only two ales on the bar, and it was a Bury St Edmunds brewery. No, not GK but The Old Cannon. Nothing wrong with Old Cannon I hear you say but I was in South Suffolk and hoping to find Nethergate or maybe Maldons. However I sampled Gunner's Daughter and another from OC called The Six Bells, which I would guess was OC Best Bitter. We had intended to just have a quick drink and be on our way but we were tempted by the pubs reasonably priced fixed menu so decided to stay and have lunch. After having consumed some better than the norm pub food and, on chatting with staff, discovered they usually also had one Adnams on the bar. This was currently Spindrift but recently this had been Broadside but which apparently didn't sell well. I was surprised at this as I thought Broadside goes well with winter food. Presumably not many old gits like me frequent the pub as it surely relies on food rather than ale sales to survive in this quiet off the track village.
Although obviously not a drinkers pub I would still recommend it to other CAMRA members as it is a lovely old listed building, the staff are very welcoming and friendly and the beers sampled, considering, were perfectly respectable. Ed.
Update from member Stuart a regular contributor to Pub News, on some Bury St Edmunds pubs, OK one is Horringer but that's close enough.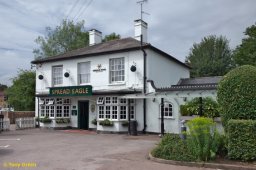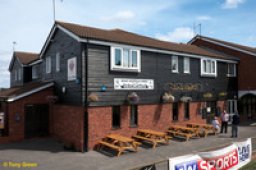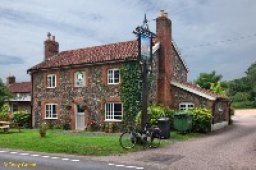 Jan 11Unusually for me, as it is not my favourite pub, I popped into the Spread Eagle on Wed 10th to find that they still had Abbot Reserve on the bar after Christmas, couldn't resist and had a couple and it was in excellent condition. Yesterday, the 11th, nipped into the Glad Abbot and discovered it was under new management - taken over just last Monday. 4 ales on the bar and I sampled the Three Kings which was very good. The new people are planning a loyalty card system and plan to hold regular live music nights and are restarting the carvery on Sundays. I was also in the Horringer Bee Hive last weekend. It was busy with 4 different ales on tap one of which was Mauldons Silver Adder, again in very good nick. Sorry I cannot remember the other three.( Yes I know Andrew I should have taken a photo- sorry!!! )
Good news for cashless cyclists, walkers, real ale and coffee lovers. Our Suffolk "Pub Guru" Tony has sent news that the former King's Head in Sudbury, now renamed The Cyclist is open again.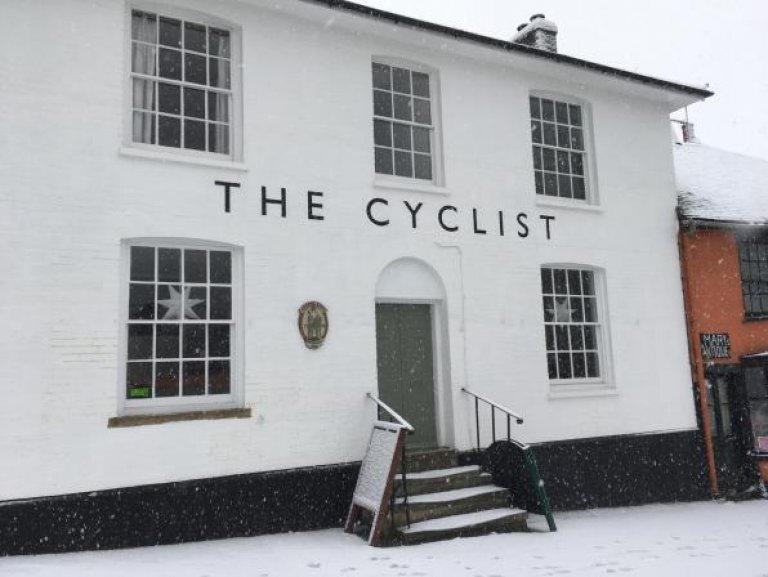 Owned by Theo Bird, who runs a holiday let nearby. It took about a year to renovate (longer than expected) as it was in a very bad state - even had 40 year old formica on the bar. It's now being used by locals who hadn't been in the place for decades.Dogs welcome. Aimed particularly (though not exclusively) at cyclists. Has a secure shed for locking bikes in and has basic tools for repairs. Has a warm, cosy environment and specialises in local ales. Also serves coffee, wine, tea and simple food. Something important to note - doesn't take cash!
Jan 5 Visit to Punch Tavern's The Bull in Woolpit today.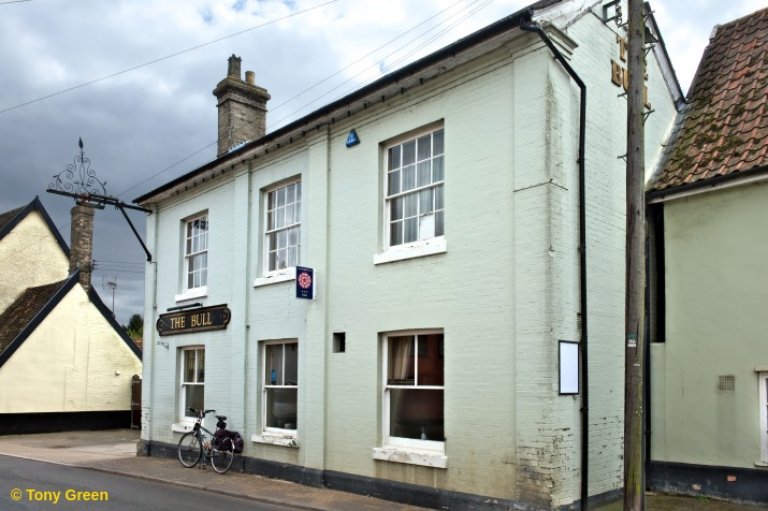 .
The pub has been tastefully refurbished (that is if you like a town night club style but apparently the new look well received by locals) and has very friendly mine hosts. Two Adams offerings always available and Adnams Ghost Ship supped and perfectly acceptable. Two guest beers also available, one of which today was Monty Python's Holy Grail a 4.0% golden from Black Sheep's Masham, North Yorkshire brewery. Offered a taste by mine host but didn't do anything for me on a winters day. Maybe one for the summer or for MP aficionados. Ed.
Jan 5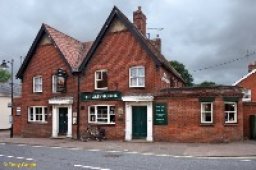 Pubs' Officer Andrew reported on a flying lunchtime visit with an oppo for a nice Mild and Abbot in the Ixworth Greyhound, as we've come to expect. GK IPA and 2 GK seasonals on too. Pump clip display tells a tale of guests from Gem, Wadworth and Oakham amongst others. .
Jan 1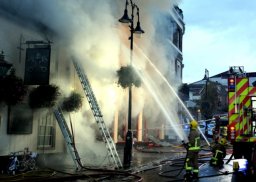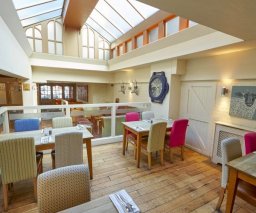 The One Bullclosed due to a fire in September is set to reopen on 1st February 2018

Pictures Andy Abbott and One Bull
2018
Dec 4 The Old Cannon in Bury St Edmunds gets a glowing report from member Nick and it seems we're probably missing out if this pub/brewery is not on our pubs to visit when in Bury St Edmunds. This is Nick's report
Since Craig and Julie took over trade has mushroomed - the pub is frequently rammed. This has resulted in 6 beers now being available, 4 Cannon beers plus 2 guests, which change (so no permanent Adnams). Quality is much higher (I have been scoring a good half a point higher on NBSS) due to the higher turnover. I would say quality is at least as good as many GBG pubs I have visited recently (but not necessarily in Bury!). They have been doing country-themed food nights (Czech, New York already with Thai and Slovak to come) which have sold out. Things are very much on the up. Not the cheapest, but still a great pub and cheaper than Greene King pubs. Worth the branch visiting more often.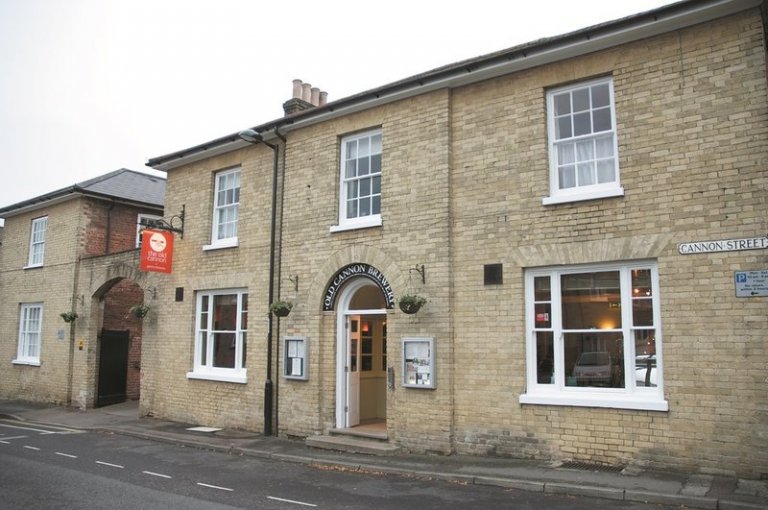 Dec 4 This time Andrew has paid a visit to GKs flagship* pub
Usual mix of GK and Westgate spinoffs but no Abbot. The (very good) IPA Reserve appears to have kicked it off the bar, strange as to most drinkers outside Suffolk it's their flagship* beer!
Nov 30 CAMRA member John has visited a couple of local pubs this week. This is his report.
Had 1 hour to spare - went to JDs (The Corn Excahange)and had a wonderful pint of St Peters Cream Stout - 6.5% and, with my CAMRA voucher, under £2. Although I buy the bottles,this was the first time I had had it straight from the barrel !!
Ed Note. Although I'm guilty of not doing so as CAMRA members we can't complain about prices if we don't use our Wetherspoon vouchers
Went to The White Horse, Whepstead on Friday night. The meal was 'alright' but not special and I remarked that it wasn't hot enough. By the time I finished,the plate was cold and the food was tepid. Two beers on, Woodfords Tinsel Toe,4.4%,later replaced by Reedlighter,4.2%. Other in our party enjoyed pints of each. I had Nethergate's B'New'Ery,4.6% Quite a nice darkish beer.

Nov 29 Our beer connoisseur Andrew popped into The Kings Arms in Bury St Edmunds last night for the first time in ages.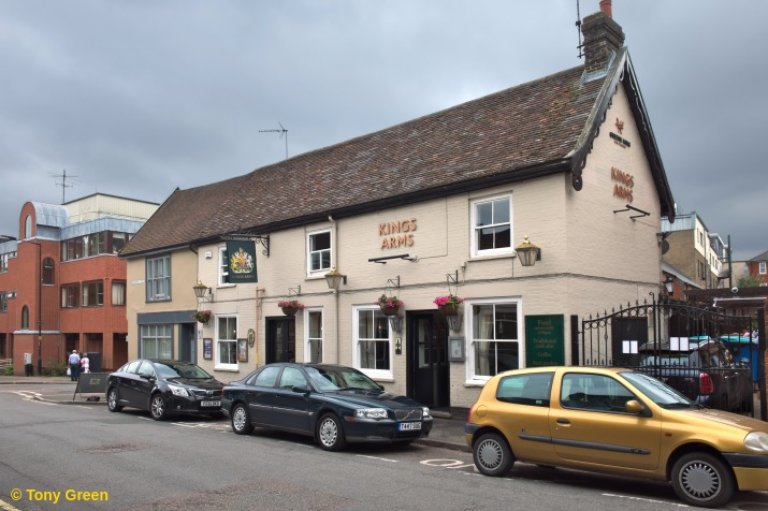 Nice pint of GK Abbot Reserve
Nov 25 Member John visited The Manger at The Street, Bradfield Combust, Bury Saint Edmunds IP30 0LW for a meal and thought their Broadside clear and bright.
2017 Community Pub of The Year is
Hundon Rose and Crown pictured above receiving their award
Nov 11 Member Andrew reported "Excellent pint of Broadside in the Beyton Bear Inn on Saturday, good to see the old sign hanging in the bar."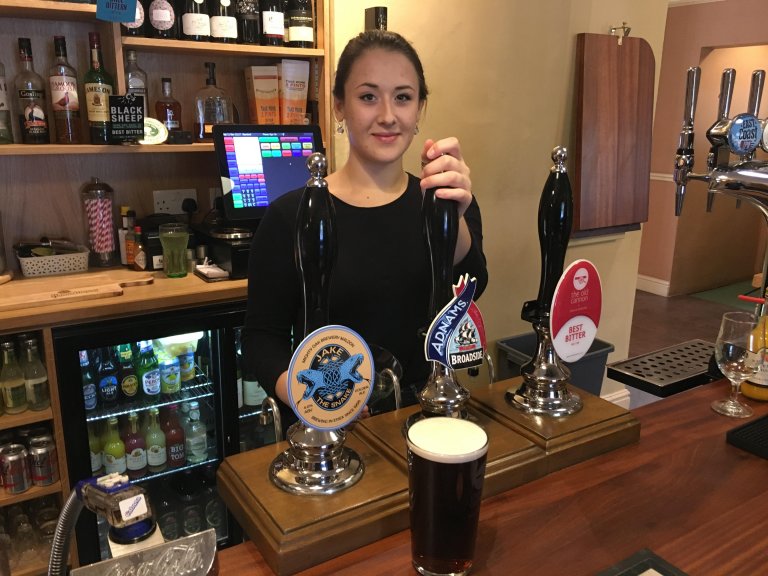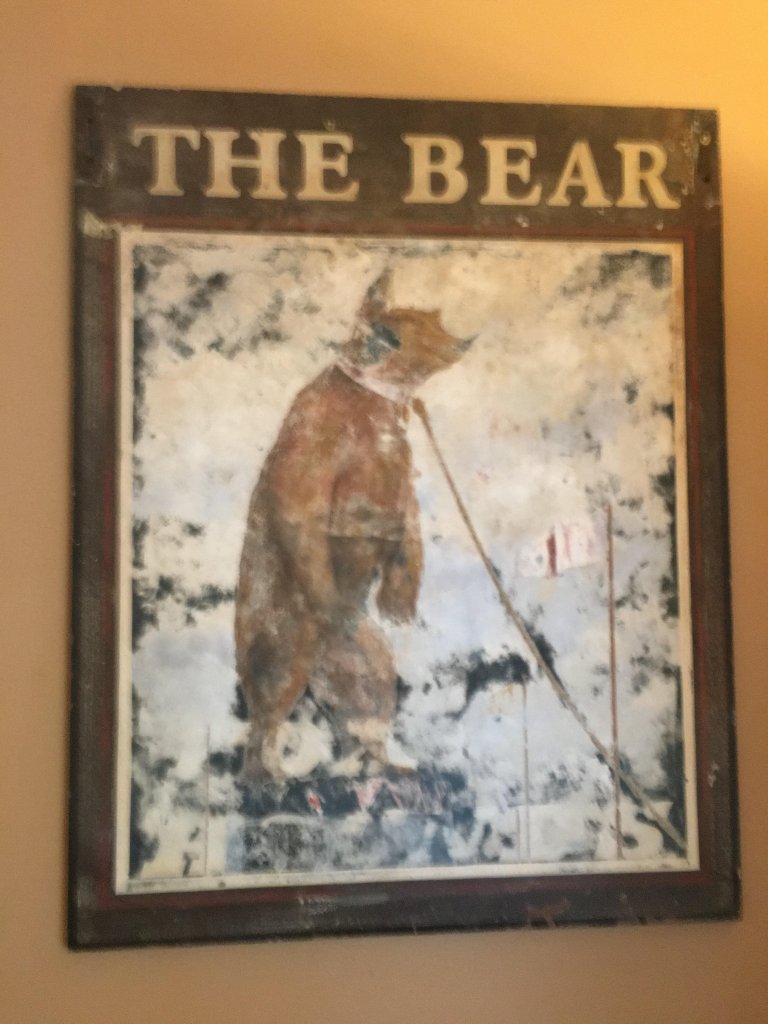 Nov 11Rougham Bennett Arms reopens tonight
Oct 28 Our dog walker contributor has been out and about again in West Suffolk and I think he likes what he found, here is Stuarts report
Tuesday 24th. Took my wife and grandchildren for lunch to the Thurston Fox an Hounds. Had an excellent meal made even better by the fact that they had Worthington White Shield on Draught. This, in my view, is a very rare beer hardly ever seen in this area. As would be expected at the F&H it was in prime condition. Wednesday 25th. After a long walk with my dog friend, I popped into the Rattlesdon 5 Bells for a spot of refreshment to find St. Austell Proper Job on the bar. Had a couple of those and once again as would be expected at this excellent little pup it was in superb condition. Finally on Thursday 26th after a wander around Bury I ended up in the Masons Arms. OK I know it is GK and is often ignored but they do get some interesting guest beers and a lot of the better house beers on the bar ie. Mighty Moose. However, I had Exmoor Gold and Skinners Betty Stoggs both of which were in really good condition and reminded my of my previous life in Cornwall, especially Skinners as I was at the launch of their first brew in Truro back in about 19197/
Oct 26 Member Tony has reported that "Long Melford Black Lion reopens tomorrow Friday
also branch members may know more about this than I do, but BBC Radio Suffolk is reporting this afternoon that as part of the renovation work at The Guildhall they're going to create a "community pub".Just a throwaway line, with no further info."
Thanks for the information Tony. Ed
Oct 23 Fire damage One Bull, Angel Hill, Bury St Edmunds. One Bull fire update
News in from member Tony regarding One Bull
"They were hoping to reopen for xmas, but have just told Radio Suffolk that the damage is so bad (particularly problems with it drying out) that this isn't going to happen.
No real estimate yet for reopening."
Oct 10 Member John has been to the Lawshall Swan last week. "Very quiet, but we had a nice chat with Laura and had a meal there. They now offer a 2 or 3 course lunchtime special - best to book before going. There were 3 beers on offer:-

Rye Mild 4.1 % (Black Sheep)
Copper Leaf 4.0% ( Wimbledon)
Haven 4.2% (Bude Brewery)

They are continuing to make improvements to the outside area. I like that pub!"
Thanks John - just the sort of feed back we like. Ed.
Oct 5 News just in from Tony, Suffolk's own cycling Pub Guru. "The Black Lion (Pictured) in Long Melford is to open shortly after refurbishment by The Chestnut Group"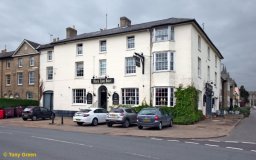 Ed note: Long Melford on the up with this and Nethergate about to open shortly
The owners of The Bull, in Troston which reopened in the summer, have told us the pub now has a darts team and they have also set up a micro-brewery on the site.
Oct 2 Suffolk's own pub genie has cycled over to Barrow to take a look at the newly reopened Weeping Willow pub.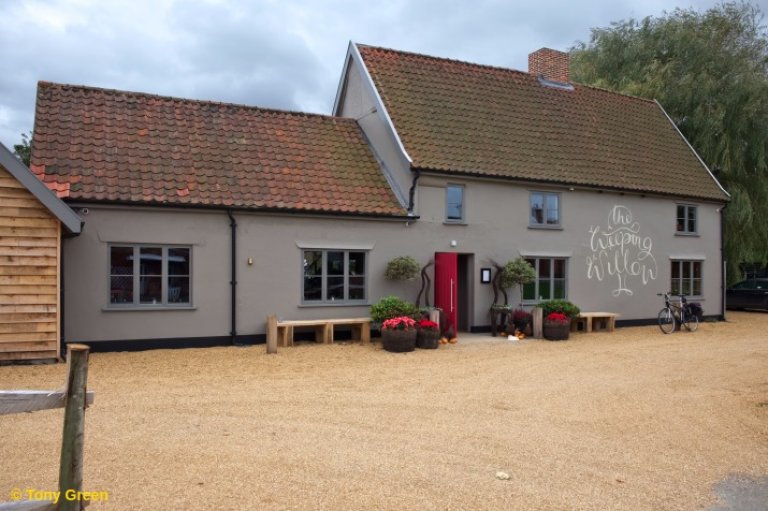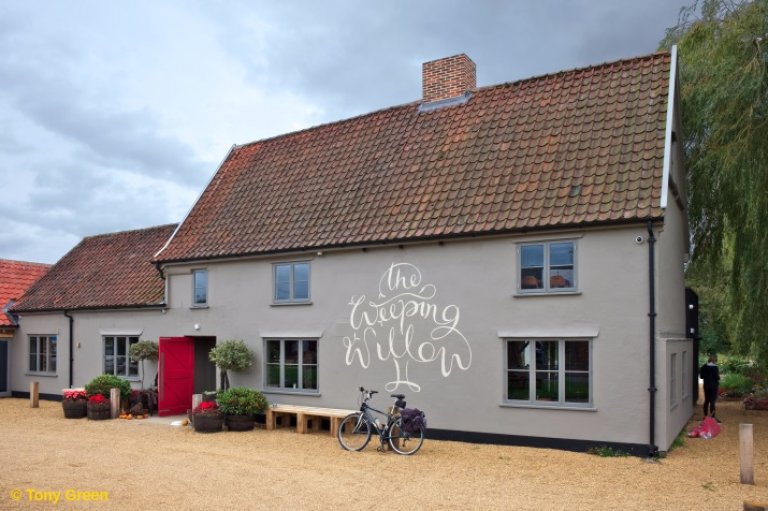 Here is Tony's report
"Just pedalled over for photos, see above, and they've done a nice job. Looks great outside and very plush inside. About half a dozen handpulls (mostly serving Woodforde's at present) and a lovely new restaurant extension at the back that's glazed to feel like it's outdoors.
Oddly, after letting The Three Horseshoes (pictures below in 2016 and in October 2017) by Tony) in Barrow get tattier by the year, Greene King have done it up and given it nice new signage which doesn't mention GK anywhere, though that's all that's on the bar."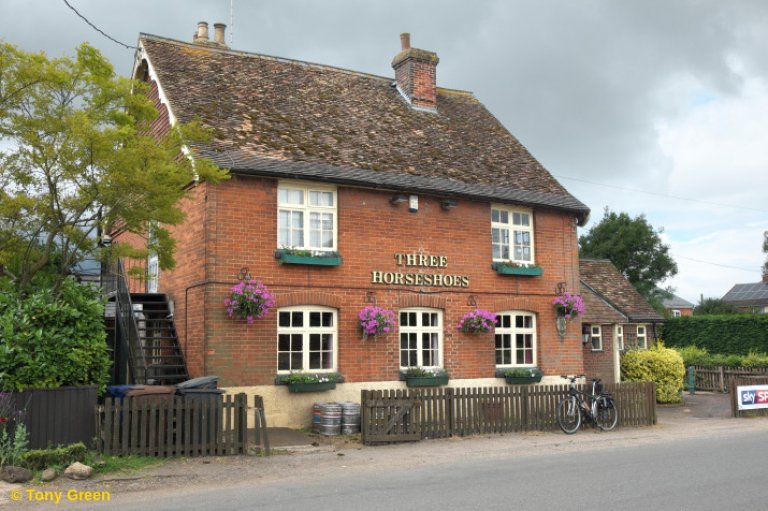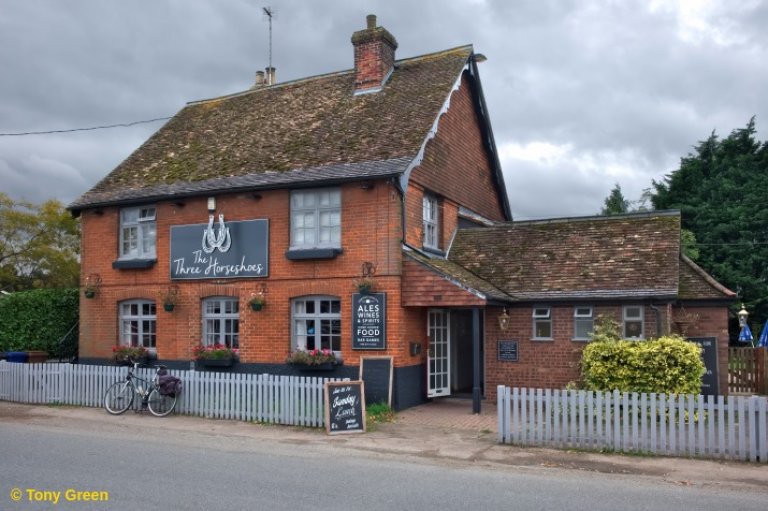 ** 10 Dec Update from Clive "... note the 3 Horseshoes, Barrow was sold to Hawthorn Leisure a few years back and now has nothing to do with GK!"
Ed. Many thanks for the update Clive
Aug 31 Pubs Officer Andrew has more news about a couple of pubs not far from Bury St Edmunds. First up is Pakenham Fox Had a beautiful lunch today at Pakenham Fox. Beer highlight probably the Old Chimneys offering. Nice to see a lovely pub in such good health, makes you wonder how it could have been closed for so long.
Also visited by Andrew was The Three Kings in Fornham All Saints (see pic) about which Andrew had this to say: "Excellent Abbot!"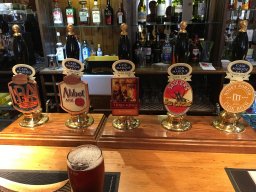 Ed note: I know Andrew likes a good pint of Abbot but it appears he also thinks we are running out of room on our web site.
Aug 17 More from Andrew this time concerning a visit this week toThe Manger in Bradfield Combust. Adnams Southwold and Brakspears Bitter, Broadside on the way but not quite ready. BB was excellent. GK beer is no more as the pub has been (gulp) bought by Hawthorn Leisure. Makes the size of the car park even more notable. Also The Beehive Horringer, IP29 5SN Nice Inferno at a nice price at Horringer Beehive today, see pic below. Bartram's beers no longer available, leaning mainly toward Adnams and Oakham.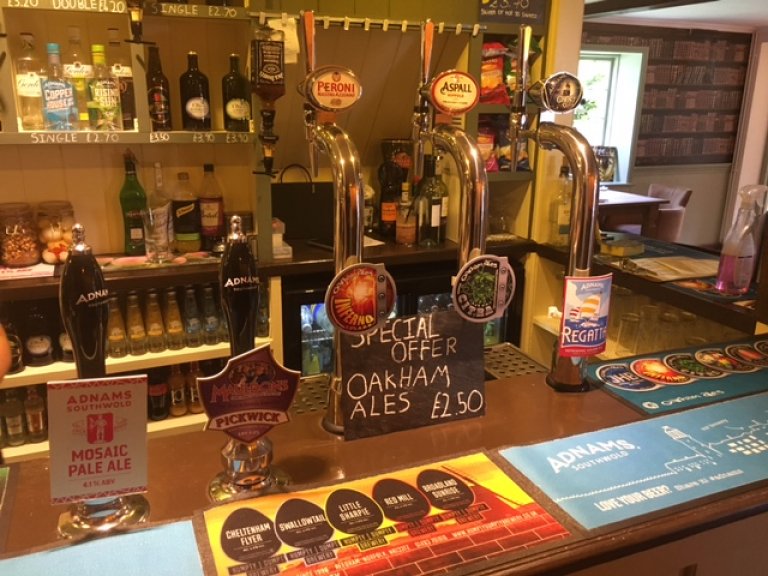 We start another year with some more reports from Pubs Officer Andrew who was out and about at the weekend
Aug 2 Walsham Blue Boar had lots of cider. So excited I forgot to note the beers!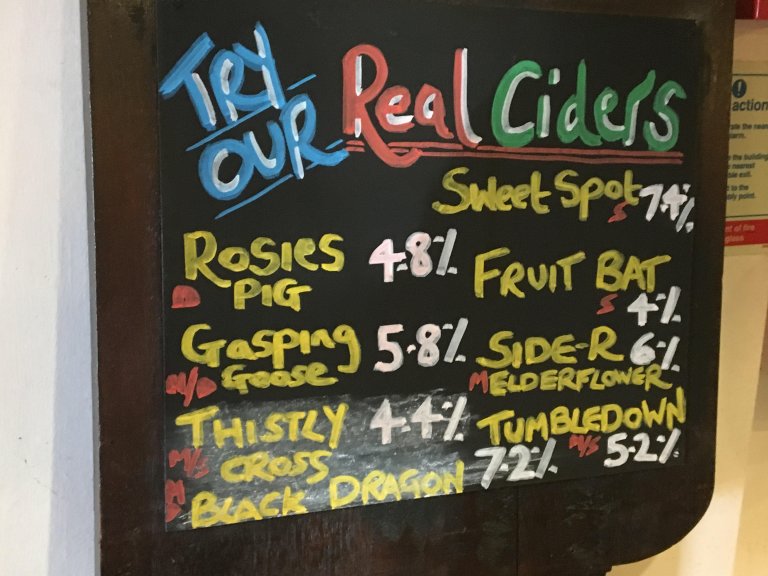 Pakenham Fox now doing good most lunch times and evening, details: here.
Badwel Ash White HorseBeers as shown, Greene King don't seem to want to admit a Bermuda connection. Enjoyed the Regatta.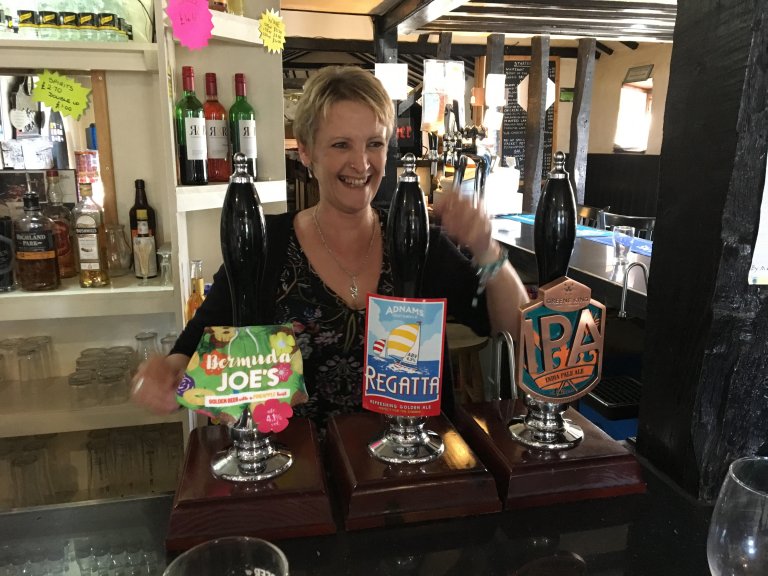 Our Pub News page has been running for 12 months now so below is a table which lists the pubs mentioned during this time together with the number of mentions. The list is in Location Order so that you can quickly check to see if a pub you are thinking of visiting has had a mention, good or bad
Location
Pub Name
Mentions
Notes
Barrow
Weeping Willow
1
Beyton
Bear Inn
2
Beyton
White Horse
1
Bradfield Combust
Manger
1
Brandon
Five Bells
1
Brandon
Flintknappers
2
Brandon
Great Eastern
1
Brandon
The Bell
1
Brandon
The Ram
1
Bury St Edmunds
Beer House
1
Bury St Edmunds
Black Boy
1
Bury St Edmunds
Dove
3
Bury St Edmunds
Glad Abbot
1
Bury St Edmunds
Greyhound
1
Bury St Edmunds
Kings Arms
1
Bury St Edmunds
Mason's Arms
3
Bury St Edmunds
Moreton Hall
1
Bury St Edmunds
Oakes Barn
1
Bury St Edmunds
Old Cannon
1
Bury St Edmunds
Rose and Crown
2
Bury St Edmunds
The Grapes
1
Bury St Edmunds
Weatherspoons
1
Cavendish
The Bull
1
Chedburgh
Marquis of Cornwallis
1
Now closed
Chevington
Greyhound
1
Clare
Bell
1
Elmswell
Fox
1
Elmswell
Railway
1
Exning
Wheatsheaf
1
Exning
White Horse
1
Exning
White Swan
1
Felsham
Six Bells
2
Flempton
Greyhound
1
Fornham All Siants
Three Kings
1
Great Barton
Bunbury Arms
1
Hessett
Five Bells
4
Now closed
Horringer
Beehive
6
Horringer
Six Bells
2
Leavenheath
Hare and Hounds
1
Long Melford
Crown
1
Long Melford
George and Dragon
1
Long Melford
Hare Inn
1
Ousden
Fox
1
Pakenham
Fox
1
Rattlesden
Brewers arms
1
Rattlesden
Five Bells
2
Rede
Plough
1
Shimpsling
Bush
1
Sudbury
Bay Horse
1
Sudbury
Brewery Tap
2
Sudbury
Waggon and Horses
1
Sudbury
White Horse
2
Thurston
Fox and Hounds
5
Tostock
Gardners Arms
1
Troston
Bull
3
Waldingfield Great
White Horse
1
Waldingfield Little
Swan
1
Whepstead
White Horse
3
Woolpit
Bull
3
Woolpit
Swan
1
E&OE
JULY 2017
News just in from member Dick "Just a note for to say that The Flint Nappers in Brandon has been closed and sold. It has now reopened under its new owners (The Craft Beer Company). I will check it out and send you an update ASAP."
Jul 28 More local info. from Pubs Officer Andrew
Horringer Six Bells up, running and doing a nice pint of Sharp's Atlantic. Diners seemed impressed too making a point of saying how much they'd enjoyed their meals. Whepstead White Horse beer festival will be run by Nethergate, beer list to follow when available. Good to see a strong St Peter's on the bar. Nice range of beer on at the Horringer Beehive
July 30th. WINNER OF 2017 Town and Branch Pub of The Year The Dove, Hospital Road, Bury St Edmunds
receiving their certificates to mark the awards from Branch Chairman Martin Bate (Center).
Jul 18 Latest report and some insight on local pubs from regular( get it) contributor Stuart
Looked in at Rattlesden Brewers Arms on Sunday and the Brewers was open. I went in to find a lot of people eating in the main bar. I checked the beers ,but of the three pumps, two had no pump clips on and the third was turned round indicating that it was off. After waiting to be served for about 3 or 4 mins., with no one behind the bar, I walked out and went to the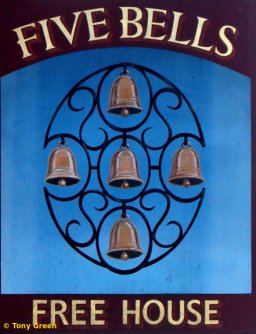 and had a couple of excellent Box Steam Brewery Golden Bolts. The Brewers is still advertising a Bikers Night, catering for weddings, birthdays etc., but I suspect it may be concentrating on food and functions - we shall see.
Stuart. Stop Press . I have just passed the Hessett 5 Bells which now has a sign on the fence saying " Closed for refurbishment " - let's hope its true.
Jul 16 Happened a while back in May but pictures just in of the presentation of West Suffolk and Borders COUNTRY PUB OF THE YEAR 2017 award to Mandy and Bernie Ruffles of Thurston Fox and Hounds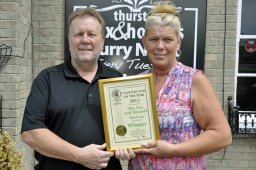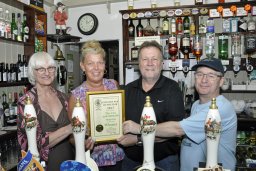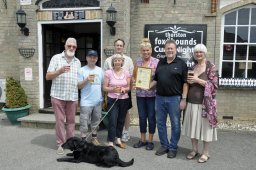 Jul 16 Hot off the press is this report on a Sudbury Pub The White Horse from member Peter who is obviously impressed by this venue as this is his second report. I have been visiting the White horse for a number of years. The pub has recently been refurbished & re-branded by Greene King. This review is based on three separate visits over the course of a few months after the refurbishment.
The pub is clean & tidy & creates a good first impression. The "Greene King Theme Pub" look is not something I'm always fond of, but it seems to have worked here. The black and white tesselated tiled area in front of the bar is particularly pleasing. The seating area outside the pub is flanked with Amstel banners & gives the area a continental feel. Food is served but I didn't try any. On the whole, I feel the pub doesn't have a "food-pub" feel about it.
This being a Greene King house there is the usual range of Greene King ales plus a guest. The beer was good on all three visits & the cask marque sign behind the bar is a reassuring touch. The beer was served by friendly & courteous staff on all three occasions. The pub is defiantly worth a visit for those looking for a decent pint in Sudbury.
Jul 12 Regular contributor Stuart has been wandering again. Here is his latest report. I wandered into the Beyton Bear on Monday July 10th for a bit of refreshment on my wanderings. I had last been in on one of our PotM trips a while back when they were still busy redecorating. This is now complete and they are busy installing a new covered patio area and refurbishing the garden . A pint of Canon Best followed by a Lacons were both in good order but there is to my mind a lack of atmosphere in the pub and nothing to negate the feeling of being in a hospital waiting room, a shame as it has been well refurbished.
Jul 12 A new contributor to these pages, member Nick writes about a recently refurbished Bury St Edmunds pub. I have visited the Kings Arms a couple of times since it reopened after being refurbished. It is now a tenancy, having previously been a managed pub. 5 beers, IPA, Abbot, Old Speckled Hen plus 2 guests. Condition of beers pretty good. Staff efficient and friendly. Worth a visit. We will try the food soon!
Jul 11 Center Parcs, Elveden New contributor to these pages Danny, visiting our area from Maidstone in Kent, has sent the following:
I visited at the weekend and was pleasantly pleased to see that they were serving Real Ale in both the Country Club and the Sports bar. In the Country Club they were serving a beer called Woodcutters although I couldn't see on the pump clip who brewed it. I did question the bar staff and the only information gleaned was that it was brewed locally and it came from Bury (presumably they meant Bury St Edmonds). I'm not a fan of the local brewery form there, I can't stand the hop oil, however, it didn't contain that twang, it was in excellent condition and I really enjoyed it – suffice to say that if the details of that bar was in Whatpub it would get a 4. The other beer was Doombar.
In the Sports bar the only beer on was Doombar. Again, not a fan but when it is the only real ale on then I will choose it over Fosters. I had the first pint out of the new barrel and again it deserved a 4
Jul 19 ***UPDATE from Danny. I did contact Center Parcs as I wanted to know what brewery they used so here is a copy of their definitive response; "I am happy to confirm that Wood Cutter is brewed by Woods Brewery. Unfortunately, we aren't open to day visitors. The only way that you are able to gain entry into the village is to have a reservation with us, or for a guest who is staying with us to purchase a full visitors day pass. I apologise for any disappointment this may cause" So now you know.
Jul 9 Stuart, a regular contributor to our Pub News, here is his latest report:
"on a hot afternoon in July found myself last Thursday in the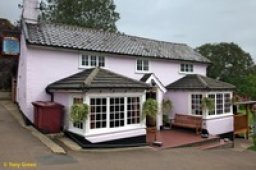 Rattlesden Five Bells, to find them serving, amongst others Kellham Island Pale Rider, an ex CBoB ale. It was so good I had to have another and can say that it was a very good pint indeed. The following day we ( She Who Must be Obeyed) and the dog wound up in the The Six Bells in Felsham early evening time to be confronted by IPA, Adnams and Ringwood Forty Niner. There was no choice and the 49er was in really good condition - so good was it that I had to go back the following night just to make sure it was OK - and yes it was!! On Sunday we (me and the dog only ) returned to Rattlesden but the Kellham Is. was gone to be replaced with Woodfordes Once Bitten which was not good so for my second I had a Ghost Ship. On being served I was told that the landlady was not happy with the Once Bitten, had taken it off, and that the Ghost Ship was "on the house".......................without asking!!!!!!!!!!!
NOW THATS WHAT I CALL SERVICE."
Meanwhile another member with the hard task of reporting on local pubs is Pubs Officer Andrew who reports about a visit to The Beehive in Horringer.
Good day yesterday as Max and staff put on live music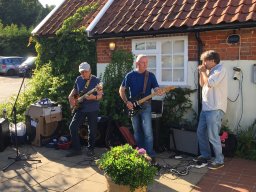 and barbecue as a thanks to the villagers. If only other places were as supportive of their local! Adnams Broadside & Mosaic, Mauldons Orange & Bronze Adders.
To make things even better for Horringer locals Andrew also reports that Horringer Six Bells is up and running again! Current opening times Monday-Friday 4-11 pm, Saturday 12-11, Sunday 12-6. When kitchen opens m-f 11-11Sat same Sunday 11-6 Doombar and Ghost Ship yesterday
Jul 5 Pubs Officer Andrew has been travelling again this time to the east of Bury St Edmunds on a bike of all things. First call was at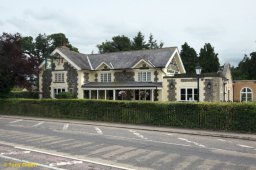 The Bunbury Arms near Great Barton. "Perfectly respectable Old Spec Hen early doors today. IPA (hurrah!) also on, Abbot normally available but they'd apparently had a rush on it!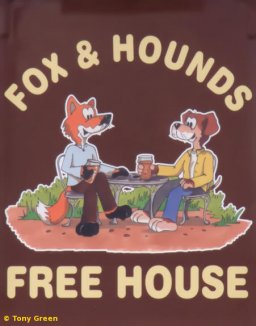 Good Broadside in the Fox and Hounds at Thurston, West Suffolk and Borders CAMRA Country Pub of the year..
JUNE 2017
Jun 26 Hopefully another LOCAL will soon be brought back from the dead. The Troston Bull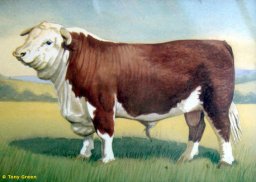 expects to reopen SATURDAY 15th JULY. We seem relatively lucky at the moment with one or two that we thought were lost now open again or will be soon and as if to prove the point this just arrived from that maestro on all things Suffolk Pubs Tony G, wrote regarding The Weeping Willow Barrow. "thought this pub was gone forever, but when I visited Barrow today I found it being renovated. Chatting to someone at the site, it turns out that it IS going to reopen. Possibly towards the end of September but more likely in early October. Beers will mainly be from Adnams and Woodforde's."
Jun 17 From member Stuart. During this wonderful weather I found myself , last Thursday June 15th, wandering round Thurston and naturally when finished my dog walking duties sauntered into the Fox and Hounds for a bout of quick refreshment. Imagine my amazement when I spotted on the bar, among several other great offerings, Worthington White Shield draught IPA. This I had to try as I know it is very rare. It did not disappoint - it was brilliant in fact truely outstanding. The previous day I had had another rare beer their, one which I used to drink lots of during my time in Cornwall, good old Bass. Yes I know it is no longer brewed in Burton but served in the F & H it was still a damn good pint. However it was pipped by the White Shield which was so good I had to return the next day for another couple of snifters. I have never scored a beer 5 on the beer scoring scheme but am about to break that barrier by doing just that.
Jun 13 Update on couple of Bury pubs by Andrew "Black Boy in Guildhall Street no longer serving Mild, it'll be back later in the year.
Huge quantities of Adnams being shifted at The Dove, in Hospital Road. Abbot appearing regularly too" Ed. note I think I heard mention of Strong Suffolk in cask seen here recently
MAY 2017
May 19 From member Andrew: Just had a lovely lunch at the Whepstead White Horse. Good beer, food and service. And nice to see a pub so busy at lunchtime.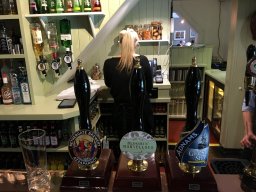 Bar Area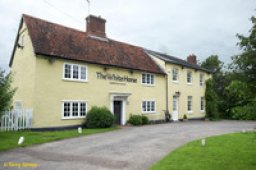 White Horse Pictured
May 10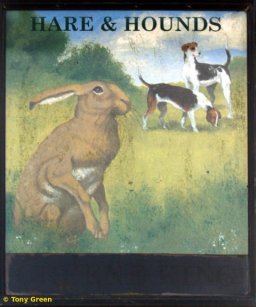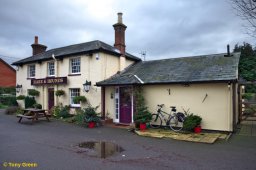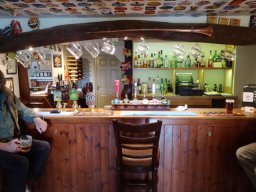 Hare and Hounds, Leavenheath Members Charlotte and Steve visited recently. Both were impressed by the food, beer and atmosphere. Overall review " a proper pub".
May 6 Looking for a good pint of GK Abbott? WSC member Kevin has been lately been impressed by the quality of the Abbot at The Manger, Bradfield Combust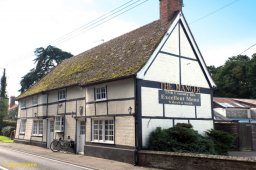 APRIL 2017
Apl 17Another report from member Peter, this time about the The White Horse, Sudbury.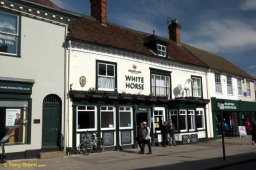 I have been visiting the White horse for a number of years. The pub has recently been refurbished & re-branded by Greene King. This review is based on three separate visits over the course of a few months after the refurbishment.
The pub is clean & tidy & creates a good first impression. The "Greene King Theme Pub" look is not something I'm always fond of, but it seems to have worked here. The black and white tessalated tiled area in front of the bar being particularly pleasing. The seating area outside the pub is flanked with Amstel banners & gives the area a continental feel. Food is served but I didn't try any. On the whole, I feel the pub doesn't have a "food-pub" feel about it.
This being a Greene King house there is the usual range of Greene King ales plus a guest. The beer was good on all three visits & the cask marque sign behind the bar is a reassuring touch. The beer was served by friendly & courteous staff on all three occasions. The pub is defiantly worth a visit for those looking for a decent pint in Sudbury.
Member Peter has sent us an update of happenings in Long Melford/Sudbury area.
George & Dragon LM The George & Dragon in LM has had a poor reputation in the last 5 years, however the owner has taken a more hands-on role in recent times. The pub has been refurbished and a new bar manager, Johnny, has taken over. He is young and keen & seems to know his stuff. His aim is to bring in as many different beers as his GK tie will allow. Watch this space.....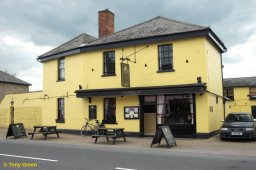 The Crown LM The Crown in LM will not be serving GK beers from 22nd April. Bar manger John is taking advantage of the end of a business agreement with GK to, quote, "Finally stop serving GK IPA!". He has also taken on Adnams Dry Hopped Lager as a regular Lager, and is looking to serve an extra real ale to replace GK IPA.
The Brewery Tap Sudbury I visited the Tap last Saturday after a couple of cheap beers in Wetherspoon's Sudbury (A soulless place). The Tap has recently had a new manger but he was not in evidence on the night. The pub was dead, with no more than 6 or 7 regulars at any time, quite disappointing. I will keep checking back to make sure this isn't a sign of things to come.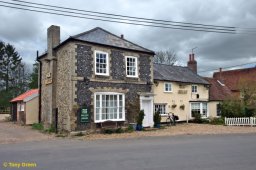 The Six Bells Felsham, Two recent reports about this pub. Member Brian says in an email it is well worth a look and this is backed up by Stuart who reports:-
This pub has been very well refurbished - decorated, some new old fashioned furniture, and generally spruced up without spoiling the ambiance of a traditional village pub. We had a drink on Wednesday night and went back on Thursday for the steak night. Food was good but I ended up bringing the red wine, included in the price of the meal, back and used it for cooking. Beer wise they had Abbot, GK IPA and Southwold, all of which were in good nick. If they were to vary the beer range it would help. But at least the pub has risen from the dead and appears to be thriving, there were plenty in especially on Thursday and they have various other special evenings throughout the week.
CAMRA member, and regular contributor to this page, Stuart has had a tough time recently trying to get his beer ration from Wetherspoon's at their Corn Exchange Pub in Bury. This is what Stuart had to say.
Wandered into Wetherspoons last Thursday when they were in the throws of a beer festival to find 1 of the 10 hand pumps had cider, 4 had real ale and the remaining 5 were not on!!!!! I therefore repaired to The Morton Hall and had two excellent pints of Rev. James, but ended up confused as the beer served to me was light and golden in colour. On closer inspection of the pump clip I discovered it was Rev. James Gold a new brew which I can highly recommend. Returned to 'Spoons today, Tuesday 4th. to find. 2 ciders on plus 4 beers and 4 pumps not in use. To the Masons Arms I went to have a excellent pint of Calidonian Deuchars IPA followed by a GK Mighty Moose, again very good. I am a supporter of W'Spoons but this to me was beyond the pale as 3 of the 4 beers on were from the same brewery I had never heard of.
Just as well you get Wetherspoons money off vouchers with your CAMRA membership - Ed.
MARCH 2017
Mar 17th Regular contributor Stuart's excuses get more and more feeble, a fact which Stuart has now acknowledged. This is Stuart's latest report.
After a visit to the dentist in Sudbury (you are right Mike the excuses are getting weaker ) I paid a visit to the Waggon and Horses simply to get rid of the taste of mouthwash you understand. (Yeah right-Ed) 3 beers on offer, Old Growler which was fine and 2 other that I had never heard of and can't remember. I tried the pale one which was only just acceptable but two guys who came in after me had the dark and both were returned as undrinkable, so not a good result. I then wandered up to the Mauldons Brewery Tap and had an excellent pint of Suffolk Pride and a long chat to the new manager, Johnny who was keen and enthusiastic and has plans for the future. So watch this space.
Pub recce. In the first of what could become a regular pub checking trips, need a name for it, any suggestions? Our intrepid Pubs Officer and a secret companion went on an afternoon, correction, late morning, afternoon and early evening walk around some Suffolk lanes, taking their lives in their hands as they dodged the traffic in order to update you, our members, with the latest pub news, well someone has to!
So this is your Pubs Officer's report.
Elmswell last Thursday 16th March. The Fox by the station had GK IPA & Old Speckled Hen. Perhaps it's me but I wasn't overwhelmed by the welcome. My companion was even less impressed. Round the corner The Railway was shut despite being advertised as open. It was only just after noon but a disgruntled regular we met outside told us it wasn't the first time so we decided to move on. Still serves Abbot , apparently.
From Elmswell, over the A14 to Woolpit and The Swan Hotel Adnams Southwold on draught but the Mosaic turns out to be keg! Apparently they're going over exclusively to keg and adding Ghost Ship. More variety, less wastage. Try arguing with that from a business point of view. Both my companion and I found the Mosaic perfectly acceptable but remarkably short on gas. Key Cask? Apparently not but this needs further investigation. Note: CLOSED Sunday & Monday. On to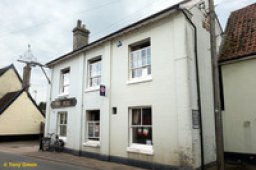 The Bull, pictured. Southwold Bitter and 2 rotating guests. My notes let me down but one was Abbot straight from the tub and it was excellent. We had a long chat with David and Sue behind the bar, they tell us the website is being updated and the interior will be fully refurbished although no walls will be harmed in the redecorating. They even reopened the kitchen to feed my companion. Just yesterday I heard they have been accredited by Cask Marque. Definitely one to watch.
At Beyton we found The Bear refurbished and the walls have been harmed here. However, we would say the overall effect is a definite improvement. Old Cannon Bitter + 2 rotating. Do take a look. Along the green at The White Horse we find 4 Greene King offerings including Old Hoppy Hen but again my notes let me down. Open for breakfast and a drink from 8.30am!
An almost suicidal walk under the A14 to Thurston and a quick pint in The Fox & Hounds before my bus leaving my companion to carry one checking. GK Abbot Reserve, IPA, Adnams Southwold and there go my notes again. Hey ho.
Mar. 9th. Clare Bell Hotel Lovely old building on Clare Market Place. Pint of Skinner's Splendid Tackle unfortunately did not live up to its surroundings, very average. Clare is a lovely place though so will go again and try the other hostelries.
Mar 4th. Pakenham Fox. Jess, our labrador, and I take a mid-day walk and what do you know we called at a couple of bars on the way, Not just Stuart who uses dog walk excuse! By the way Jess doesn't drink beer but she does like a cheesy biscuit. Great pint of Shortts Farm Skiffle and chat in this lovely restored pub then onto the Rugby Club to watch Thurston Rangers beat Swaffham and a pint of Old Golden Hen straight from the cask. If only more lunch times were like this. Mike Ed.

Branch member Stuarts excuses for visiting our pubs getting weak judging by his latest report...
Thursday 2/3/17 after a long walk with Basil (my daughters dog ) I ended up outside the Thurston Fox & Hounds - no surprise there I hear you say. Pleased to say it is dog friendly so just had to pop in to check the beer. Hopback Summer Lightning was excelent but the next I tried was new to me. Calidonian XPA was absolutely outstanding and I will look for it again if it ever returns this far south of the border.
Tuesday 7/3/17. Another long walk and 2 good pints of JHB in the Bury St Edmunds Oakes Barn - up to the usual high standard.
Latest update from our roving Pubs' Officer Andrew.
3 March Whepstead White Horse: Wherry's Ghost Ship & Brandon's Rusty Bucket. QUIZ NIGHT first Sunday of the month Phone has changed to 01284 735760
Horringer Beehive: all well, slight adjusting opening times. Monday- Tuesday 6-11 Wednesday-Saturday 12-2.30, 6-11 Sunday 12-4, 7-10.30 Adnams Southwold rotates with Adnams Mosaic on one pump, 3 others mainly but not exclusively Bartrams
4 March Rede Plough 3 rotating beers, Ringwood Bitter, Doombar & Butcombe Bitter (excellent pint, a real old fashioned bitter) are typical offerings.
Chevington Greyhound2 rotating beers, usually an Adnams offering (Ghost Ship was excellent). At "busy times" there may be additional offerings. Run by 3 generations of the same family, I talked with the landlady Jean while grandson Toby poured me a pint. Next year will be the 30th anniversary of the family taking over. OPEN MIC NIGHT 1st Thursday of the month.
FEBRUARY 2017
Feb 24 Our Pubs' Officer Andrew had a good night in Bury on Friday, very good judging by his report below
Beer House: St George's White Dragon punching way above its 3.6 abv
Old Cannon: Best Bitter in good form
Mason's Arms: excellent GK IPA Reserve but where's the Abbot?
Black Boy: a very nice pint ofAbbot.
Rose & Crown: still the Gold Standard.
The Dove: Oakham Inferno in good nick.
Feb 19 Great report from regular contributor Stuart about a pub that only reopned just before Christmas. Stuart writes,
"Went to the Horringer Beehive on Sunday 19.02.17 for lunch. One of the best we have ever had and the beers were great. I had a pint of Bartrams Swampwater which was very good, and as I am not a fan of dark beers that is praise in deed from me, followed by Bartrams Rougham and Ready. which was a light tasty beer with a nice dry after taste. The place was packed so they must be doing something right."
Feb 18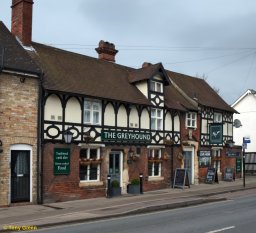 The Greyhound Bury St Edmunds has been visited recently by CAMRA member Nick "Been a couple of times to eat at the Greyhound on Eastgate Street. Excellent food, and a guest beer on, Tim Taylor Boltmaker last week and a Purity UBU this, both in good Nick."
Feb 17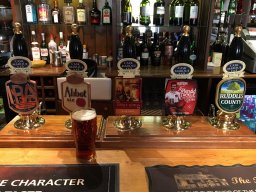 Three Kings Fornham All Saints visited for lunch by Andrew who reports "Very good Abbot"
Feb 13-15 Regular contributor Stuart reports "Monday 13.02.17. Dodged a shower by calling into the B.St.E. Rose & Crown. Usual warm welcome from Tony and had a pint of Westerham Brewery Bulldog. Only one word for it - outstanding, so I had another.
Wednesday 15.02.17. The Masons Arms in B.St.E. A pint of Sharps Storm (I think) which was well served but not really to my taste, too malty, but then had a pint of GK Mighty Moose which was excellent followed by a visit to Wetherspoons in Abbeygate Street B.St.E. to use up the last of my vouchers. A couple of pints of guest beers - can't remember what as they change so frequently - but both were tasty and well served."
Feb 12
Shrimpling Bush. WSC member John visited last week. GK Yardbird, Wherry & Nelson's Revenge, latter tried and good. Warm welcome including log fire, good fish and chips

Feb 11 Hessett Five Bells is open and trading - pop along and let your fellow members know whats on offfer

Feb 5 Some extensive Pub reports from Peter, one of our southern members. Some visits are quite old but we sure Peter will be visiting and updating us again before long.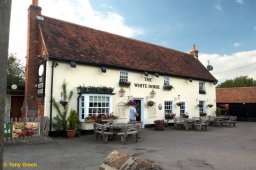 White horse, Waldingfield. 2/1/16 Overall impression is nice. Dining area good & separate from bar. Good pint of Mole trap. Adnams ghost is other ale. Food menu is extensive & is much the same as other pubs. Everything is neat & tidy & well presented.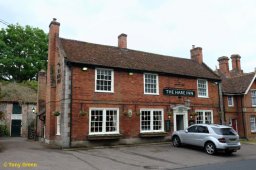 Hare inn,Long Melford. 10/1/16 Spot of lunch after long walk with Les. 1st pint of IPA just about acceptable. Lunch of fish finger baguette ok, but nothing to write home about. 2nd pint of Hardys Rock-On was very sharp & vinegar like. Returned immediately for pint of IPA which was little better than first one. We were entertained by Capital FM on the TV which I thought was out of keeping with the pub.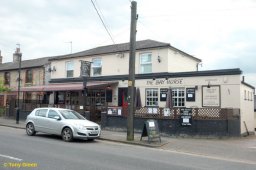 Bay Horse, Sudbury 20/2/16 7 ales on tap including some not commonly seen. 4 unusual lagers plus run of mill lagers. Good range bottled beers & ciders. Including Belgian beers & old mount cider. Coming soon board for up-coming beers. Good range of snacks. Not the usual walkers. Live music Friday Saturday & Sunday. With free food on Sunday afternoons along with the live band. Free wifi. Friendly staff. Heated out door seating/smoking area. Pool table,2 dart boards,juke box. Darts league All this and accommodation too ! Update 19/3/16 7 ales. 2 from Woodfordes. Nice pint of Directors. Still have the 4 run of the mill lagers plus Amstel, Spindrift,3Hop,Tiger &1 other. Stout drinkers have Barista, and Guinness. Final score on small TV behind bar. Good place to watch the Football scores come in.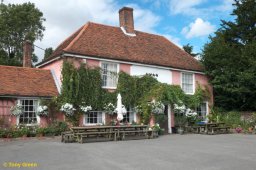 The Swan Little Waldingfield 16/4/16 Cycle ride to local villages. Passing the Swan it looked closed but some people emerged. When I questioned them it transpired that one of them was the Landlord who was about to shut the pub while he took his dog for a walk. He didn't want to see me go thirsty, so handing his dog lead to his friend, he disappeared inside to get me half an IPA. I then sat outside and supped it in the sunshine while he walked his dog. Above & beyond the call of duty ?!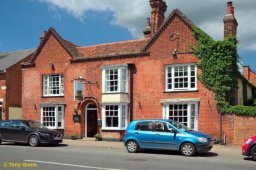 The Bull Cavendish 29/10/16 A Pint after long walk via Foxearth and Pentlow. It's been years since I've been here. Still a nice pub, looks recently refurbished. 5 real ales plus good range wines and single malts. Big fire spacious bar with tiled floor and decent food menu. Nice pub. Update 14/1/17 Visited again on 14/01/17 doing the same long walk. Kitchen being renovated so no food. But 4 beers inc 1 from Elgoods, rest from GK.
Feb. 4th. An update from the North of our Branch area. Many thanks to Dick who did a recce of some beer outlets in Brandon

!. The Great Eastern pub/hotel No Real Ale

2. The Ram pictured
As I walked into the Ram I was made welcome by the customers and staff, on looking along the bar there was 6 hand pumps (2 x Adnams, 1 Abbot, 1 Wadworth's IPA, Doombar and 1 not in use. Wadworth's was £3.30, looked good, tasted good, rated 4 out of 5. Will pay another visit soon.

3. The Bell Quite busy as I walked in but made welcome by all who were not in groups talking among themselves. 3 hand pumps on the bar (Doom Bar, one pump clip turned away so could not see what had run out and one not n use). Doom Bar £3.10 a pint, looked good, tasted ok rated 3 out of 5. Will not rush back.

4. The Flintnappers Not that busy when I walked in but made welcome. No hand pumps on bar but was served GK IPA from other bar which was not in use due to someone attempting to enter that bar whilst still in their car, oops. My pint looked good but was warm. Albeit the cheapest so far at £2.75 I will not rush back.

5. The Five Bells pictured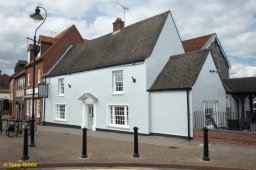 I was made welcome on arrival, they have 5 hand pumps but only one in use, Have never heard of it before and the barmaid did not know who brewed it, it was called Yeah Yeah, looked good, tasted good and at a good temperature the best by far this evening and the best price at £2.50.
Feb 1st. More news from our scout Andrew.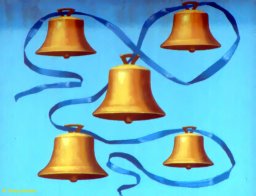 Hesset Five Bells is still trading, see previous notice below, and is well worth a look judging from this entry in Suffolk Camra Pub Guide.
Not far from the A14 (Beyton junction) but off the beaten track in the centre of this pretty village and opposite the Norman church, the heavily timbered Bells is a cosy pub. Two bars either side of the entrance lobby have log fires in large fireplaces. The massive Tudor brick post holding the sign above the entrance is said to be all that remains of the entry to a long demolished stately home. A record of landlords back to 1753 is framed in the bar. The pub was extensively renovated during 2014/2015. Not only is the pub itself a Listed Building; the pub sign is also Grade II Listed. The building was constructed in several phases in the 16th and 17th centuries. "Muddy boots & well behaved dogs are welcome".
JANUARY 2017
Jan. 30th.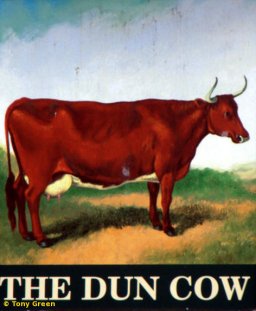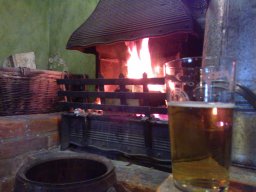 On almost the last day of what has been a cold January what better sight could you have than a blazing log fire which is what we discovered today at The Dun Cow in Bardwell. Don't know why but open fires don't tend to be found in town pubs so this makes an additional reason to wind your way to this lovely Suffolk village. Although a GK pub there are regular guest ales and Inferno from Oakham today was in very good condition. In addition to Inferno, Wherry, GK IPA and a couple of other ales were on in the lounge. This pub has been around for over 400 years so must be doing something right. Give it a look; we're sure you won't be disappointed. Members Mike and Diana
Jan 24th. More pub news and information from our roving Pubs Officer Andrew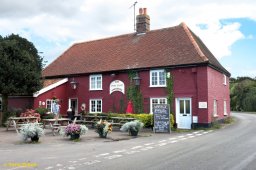 Gardners Arms (no apostrophe, apparently it's the family name so it's run by Gardners - they did change it to this) in Tostock have just completed stage one of a refurb/remodelling and are trading normally. One rotating beer, last report was of Fuller's Pride. From John, a Tostock resident.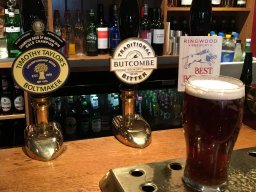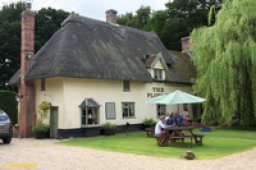 Rede Plough Brian and Joyce will celebrate 35 years at the pub in October. Pic of the beer pumps from last Saturday, very tasty Butcombe Bitter. I believe all 3 beers rotate.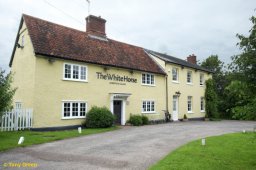 Whepstead White Horse Lee and family took over the pub last year and it now feels like a pub. More bar space plus stools to encourage punters to occupy it. Tuesday to Saturday 6-7 is a half price happy hour. Nice pint of Nethergates Stow Valley Gold. All 3 beers rotate.
Jan 23rd Picture by Tony Green of a Lowry-esk The Grapes 1 Brentgovel St, BSE, IP33 1EA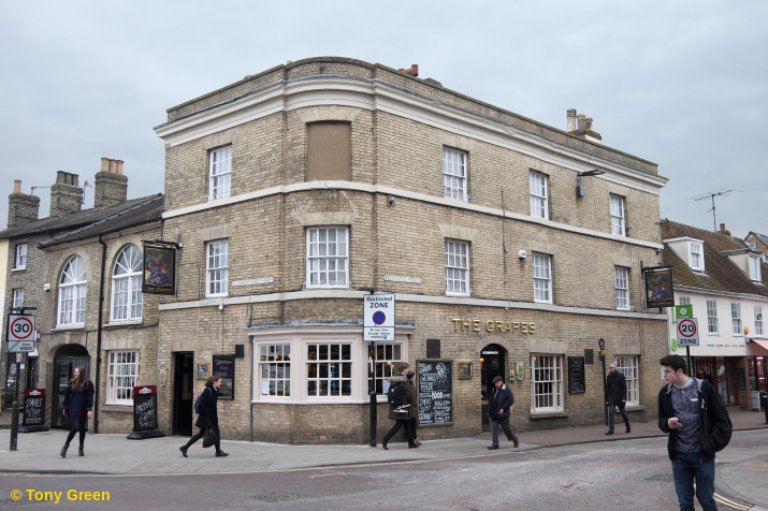 Member Nick reports the pub has recently been refurbished. Has live music and karaoke, but 2 sets of handpumps too. "I have had a beer in there before, quite a friendly place". says Nick
Jan 19th.More pub news below from our roving Pubs Officer Andrew
Ousden Fox has GKIPA at £2.60, Wherry & 2 Nethergates (Stour Valley Gold and Suffolk County) at £3.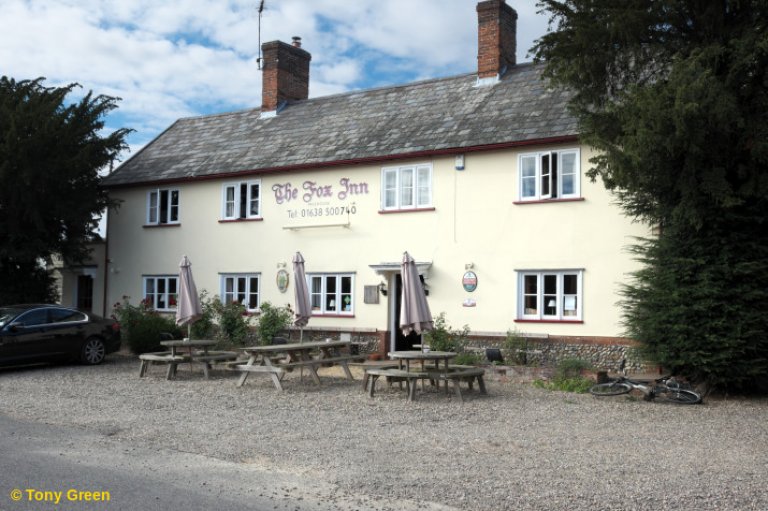 Chevington Greyhound had Colchester Brass Monkey and Humpty Bitter, both v tasty.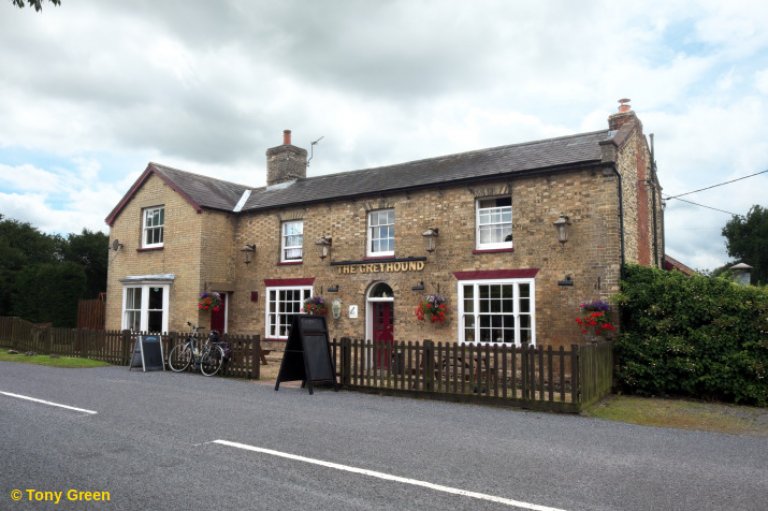 -------------------------------------------------------------------------------------------------------------------------------------------------------------------------------------------
Jan 19th.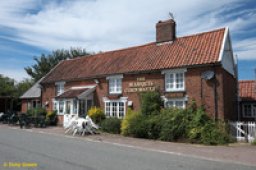 Marquis of Cornwallis at Chedurgh closed in December and there has been an application for change of use to a pub. A public meeting was held on Mon. Jan 18th. attended by around 70 people. it seems the village wants its pub back WATCH THIS SPACE.
-------------------------------------------------------------------------------------------------------------------------------------------------------------------------------------------
Jan 15th. Pubs Officer Andrew has been on his travels again this is his latest report:
"Had a pleasant hour in the Glad Abbot,Bury St Edmunds. It's had a high-spec refurb, several beers on including Tribute. Worth a look.
Ed.Great pub sign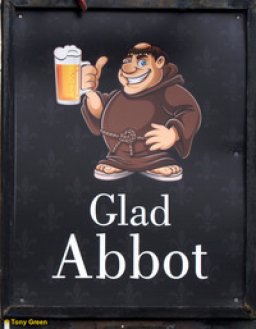 Also checked out The Beehive, Horringer (see more information about this pub below) excellent lunch, Adnams Southwold and Mosaic, Bartram's Greenman and a prize winning honey beer also from Mr B called Bees Knees."
-------------------------------------------------------------------------------------------------------------------------------------------------------------------------------------------
Vb> Jan 7th Troston Bull reopens briefly for 100 villagers - for more on this story click here
-------------------------------------------------------------------------------------------------------------------------------------------------------------------------------------------
Jan 7th. EXNING near Newmarket. Pubs Officer Andrew did a charabang (no I didn't think they were still running either) trip to Exning recently and his report suggests that, ale wise, Exning is a well served village (probably for all those little men and women who ride horses thereabouts), anyway this is Andrews report:
The Wheatsheaf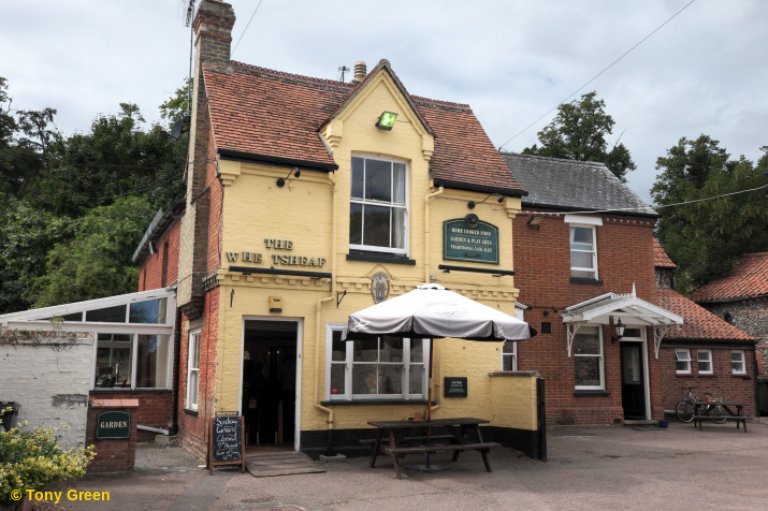 has just changed hands. A certain amount of refurb in progress, the aim is to be fully up and running in 2 weeks time. Greene King owned and currently serving GK IPA (hurrah!), a very nice pint of Broadside and Fullers LP. Philip (from Leeds) served us despite us arriving 20' before opening and made us very welcome.
The White Swan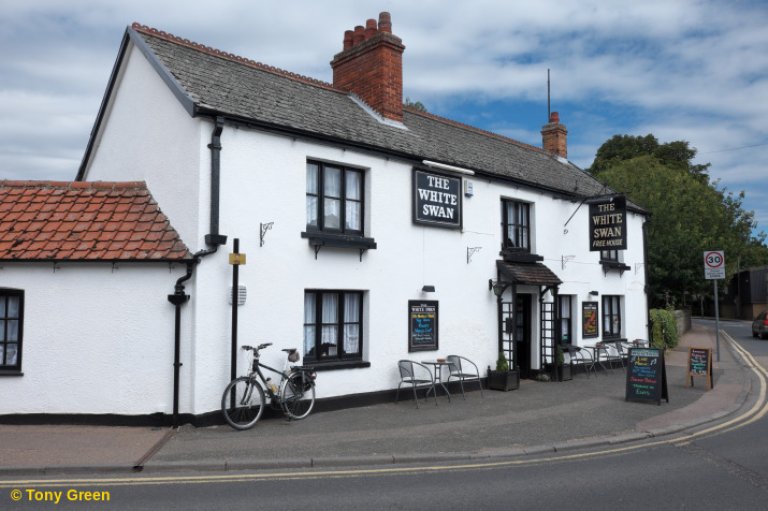 had GK IPA (hurrah!), Abbott Reserve and some seasonal thing I can't remember. Not a lot else to report.
The White Horse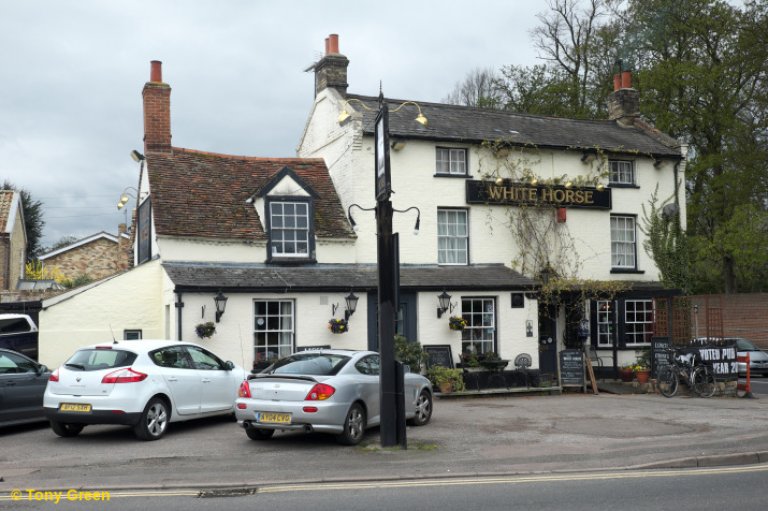 had Youngs Special (usually on and very popular), Robinsons Trooper, Broadside and Spitfire. Old Rosie cider is usually on to. Blazing fires made both bars very cosy and we received a warm welcome too.
You could spent a very pleasant afternoon in Exning, a real "drinking village".
-------------------------------------------------------------------------------------------------------------------------------------------------------------------------------------------
Hessett Five Bells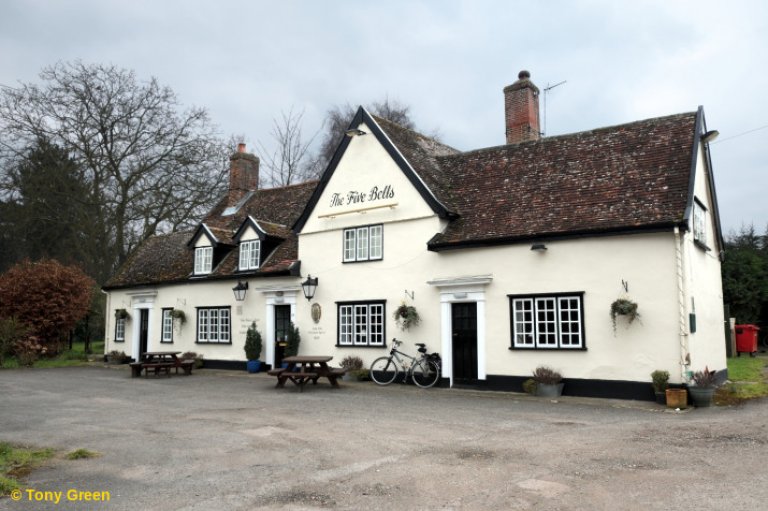 Andrew spotted sign outside whch says they are open from 16.30 -23.00 Monday-Saturday. Have you used the Bells recently? If so we would appreciate your feed back to let our other members know.
-------------------------------------------------------------------------------------------------------------------------------------------------------------------------------------------
DECEMBER 2016
Felsham Six Bells has reopened
Dec 26th 2016 Member Stuart writes "Called into this just reopened pub on Boxing day lunch time and discovered an absolute gem. Warm and friendly welcome, roaring log fire, friendly locals ( great as my daughter and son in law have just moved into the village ) and really good beer. A limited choice at the moment ,GK and Adnams, but the Abbot was excellent and the Southwold just as good. Plans are afoot to increase the range in the future.However please note that the pub will be closed from the first week in January until the end of the month for refurbishment."
-------------------------------------------------------------------------------------------------------------------------------------------------------------------------------------------
Good news. Flempton Greyhound has reopened after a short closure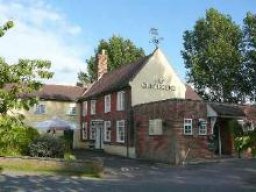 -------------------------------------------------------------------------------------------------------------------------------------------------------------------------------------------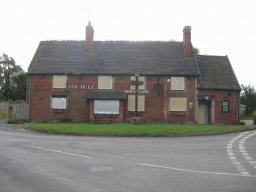 The Troston Bull expected to reopen some time in Spring 2017 -watch this page.
Jan 7th. Report in Bury Free Press New owners plan to return the pub to its former glory with exposed beams and a new garden area. It will officially open at Easter selling a mix of real ales, lagers and quality food. For more on this story click here
-------------------------------------------------------------------------------------------------------------------------------------------------------------------------------------------
Another West Suffolk pub saved. The Beehive Horringer, IP29 5SN is also now open again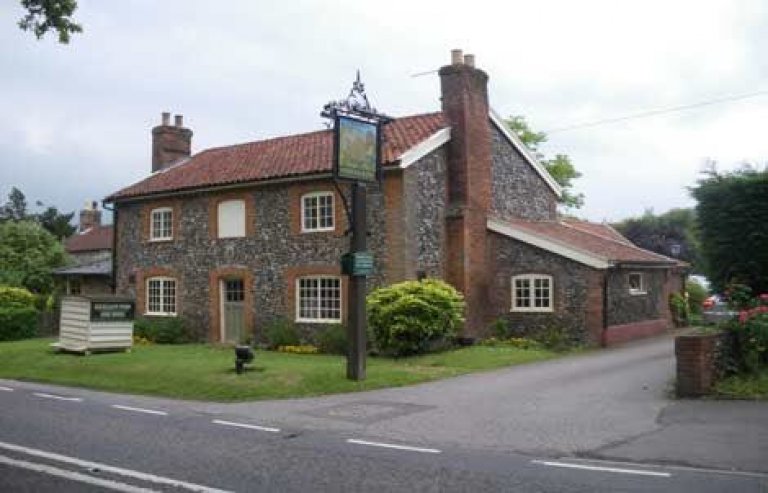 Dec.23rd 2016 Member Stuart writes "My wife and I called in last Friday night and found a warm and welcoming pub, refurbished to a good standard (but nor spoiled). Cask beers on hand pump were one of Mark Bartrams many ales and Fullers London Pride, both of which were in good order. A limited food menu was in operation and speaking to some customers they were complimentary about the quality. Various other beers are planned and overall I would say the future looks bright and the pub is well worth a visit".
-------------------------------------------------------------------------------------------------------------------------------------------------------------------------------------------
November 2016
After being closed for ten years) Garboldisham Fox (below left picture from bygone era right picture opening day) has reopened as a Community Pub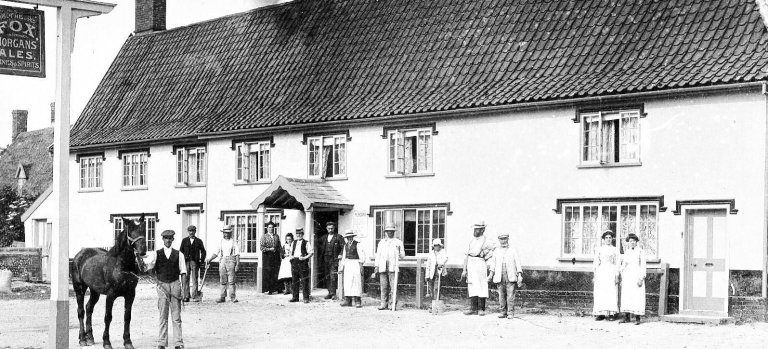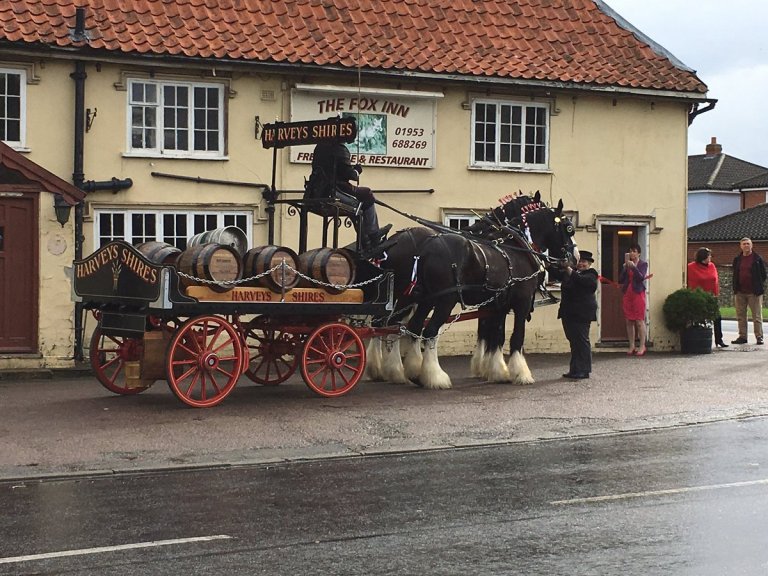 -------------------------------------------------------------------------------------------------------------------------------------------------------------------------------------------
August 2016

PAKENHAM FOX, picture left, now reopen.
With so many pubs going to the wall nowadays it is welcome news that attractive West Suffolk Pub Pakenham Fox reopended in August thanks to the hard work of brother and sister Nick and Sheila McIlwraith who are also the pubs new landlords.
Pakenham Fox which had been closed for nearly five years has been totally refurbished and restored and now has a new bar which usually has up to four real ales available
-------------------------------------------------------------------------------------------------------------------------------------------------------------------------------------------