West Suffolk and Borders CAMRA Pub of The Month
2021
April - The Grumpy Goat Bardwell

Located on Spring Road, in the picturesque village of Bardwell, near Ixworth, the 'Grumpy Goat' bar can be found at the Bardwell Sports and Community Club, a new build community facility which opened in February 2020. The development has been funded by the proceeds of the popular Bardfest events of the past ten years, local fundraising, and numerous grants. With expansive terraces, a marquee and unlimited outside space it is well equipped to take advantage of the first stages of lockdown easing. The new building has been the ambition of village resident and Cricket Club Chair, Stephen Larder, who is now the Grumpy Goat licensee. He said "Building and opening such a fabulous community facility has been a remarkable achievement. It would have not been possible without the successes of Bardfest and the support of our sponsors, the unstinting efforts of villagers (many of whom now volunteer behind the bar), businesses and the whole community. That we have been able to create a 'pub within a club' is a real bonus. The 'Grumpy Goat' is open to all whether your interest lies in sport, or being part of our community, or just enjoying an acclaimed pint of real ale or other tipple." The 'Goat' is open every day of the week, with all day opening at the weekends. It has quickly earned a reputation for good value food, served on Friday and Saturday, and an extensive drink offering. During all three lockdowns it has been open for food and drink takeaway when allowed, which has been very popular and often fully booked. Local CAMRA Branch Chairman, Chris Bailey commented "it is great to present our coveted award to a new venture, especially one which epitomises everything a modern-day rural community pub should be. In some respects it is quintessentially English – you can enjoy a drink whilst watching the village cricket match play out before your eyes - or enjoy excellent good value food, or varied events and entertainment program including a Wax Works vinyl music event this Sunday afternoon (18th April). We wish the 'Grumpy Goat' every future success."
2020 West Suffolk and Borders CAMRA PUB OF THE YEAR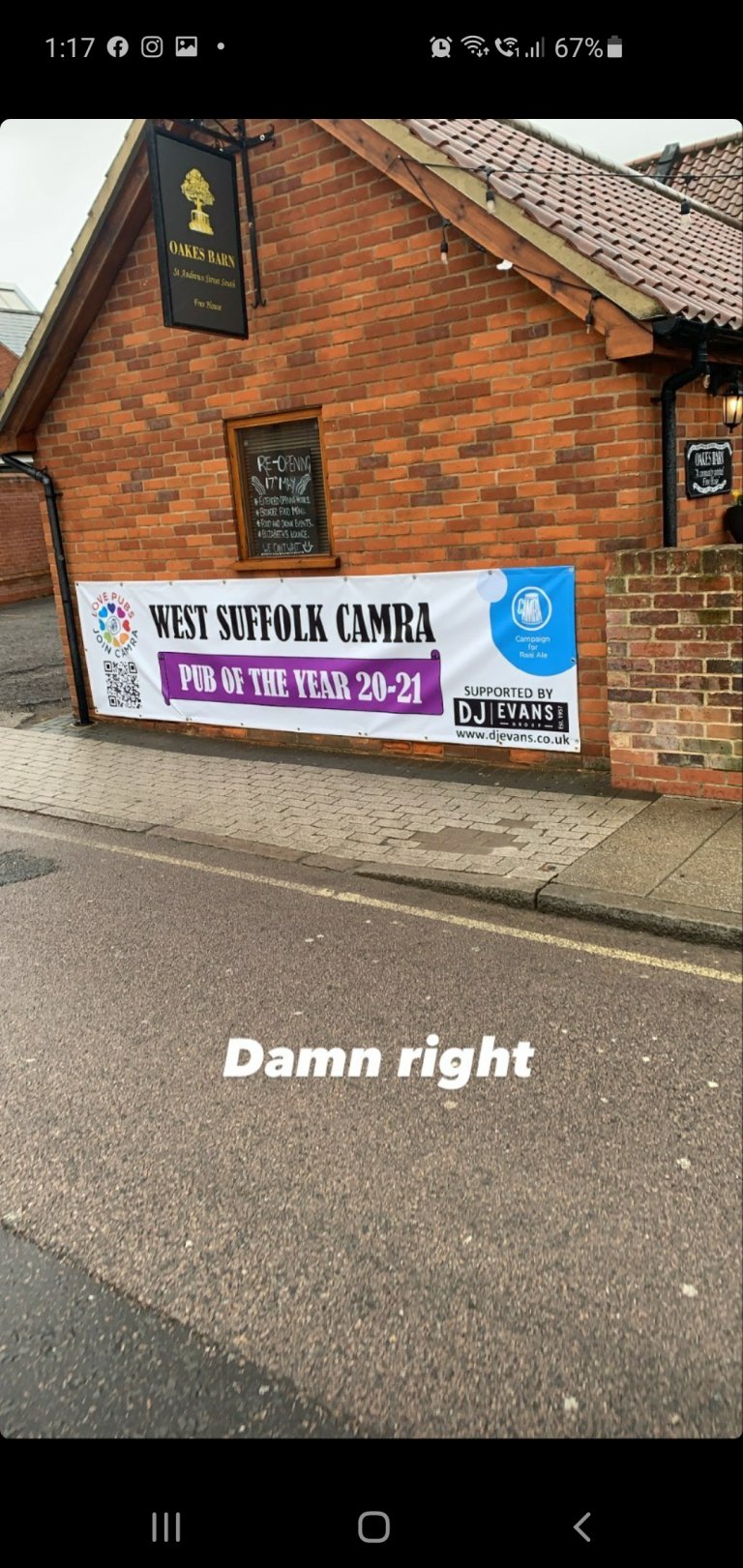 Story to follow

POTM history from 2015 todate supplied by West Suffolk Branch Vice-Chairman Martin Bate
Year / Month Location POTM Notes
2015
February Sudbury Waggon & Horses
April ?
June Bury St Edmunds Glad Abbot
August Lawshall Swan
October Bildeston King's Head
December Cockfield Horseshoes
2016
February Ixworth Greyhound
April Rattlesden Five Bells
June Exning White Horse
August Cowlinge Five Ways
October Edwardstone White Horse
December No award
2017
February Pakenham Fox
April Stansfield Compasses
June Tuddenham White Hart
August Troston Bull
October Hundon Rose & Crown
December Risby Crown & Castle
2018
February Sudbury Brewery Tap
April Brent Eleigh Cock
June Horringer Beehive
August Bradfield Combust Manger
October Great Cornard Five Bells
December Brandon Ram
2019
February Hundon Rose & Crown
April Sudbury Wagon
June ?
August Monks Eleigh Swan
October Chevington Greyhound
December Haverhill Royal Exchange
2020
February Stanningfield Red House
September Thurston Fox & Hounds
October Bury St Edmunds Beerhouse

The February 2020 is The Red House at Stanningfield

Our first stop was The Manger at Bradfield Combust. This was my first visit since the pub changed hands last year. John and Carolyn MacClinton are the new licensees and we found them hosting a good lunchtime crowd of drinkers and diners. On the bar was Adnams Southwold and Courage Best (not seen that for a while); John tells me he rotates these with other session strength beers.
On to our Pub of the Month, The Red House at Stanningfield, which would also have received Pie of the Month if we had such an award. It really did look like each portion contained its own cow! On the bar was Old Speckled Hen, GK IPA and Wherry. Pauline and John Henderson have achieved an atmosphere reminiscent of a busy village hall, a real community pub. And they have a bar billiards table!
Quite a jump from Stanningfield to Great Cornard but it was high time we visited The Brook after having heard so many favourable reports. Here is a pub that appears to have taken Dog Friendly to the next level by putting one on the staff (see picture). Woody is up for adoption, and made quite an impression on a couple in our party. Watch this space for further news and a possible opening for bar staff.
We arrived during the rugby and were warmly received despite the gift some of our group have for screen blocking. Not every pub would be so forgiving, so thank you Brookites! There was a very imaginative range of beers: Bishop Nick '55, Humber Doucy Pale, Red Fox Marmalade Stout, Adnams Old and Wherry. Humber Doucy is new to me; they're based in Bacton (although the name comes from a lane in Ipswich) and their Pale Ale went down very well. One to look out for. There was also a good selection of real ciders (I'm afraid I neglected to record them) and an interesting range of bottles. Well worth a visit if you're in that neck of the woods.
Off to Sudbury next, where we dropped into The Wagon. We always get a good welcome here and its a nice place to put your feet up. Venture, Suffolk County and Growler from the Nethergate stable and Mauldon's Silver Adder guesting. On the way out of town we stopped off at a very busy Bay Horse thronged with rugby fans watching the box. Bishop Nick Vision, Wherry and Bures Gold from Woodfordes, Bath Ales Gem and Butcombe Bitter provided a nice selection.
Finally, we stopped in at The Bush in Shimpling on the way back to Bury. It was Moules Night but we were made very welcome in the bar with Mauldon's Blackberry Porter, St Austell's Cornish Best and Wherry to choose from.
Six???very different pubs but all very nice places to idle away a Saturday afternoon. Thank you all. AL 24/2/20



The December 2018 Pub of The Month is The Ram in Brandon

This was not one of our most extensive trips but nevertheless an interesting one. We started off in Brandon at The Ram, our December Pub of the month. This is a venue that has been no stranger to hard times but since Andrew Rose took over in September 2009, ably assisted by son Anthony, it has been on the up. We found a lively bar, good beer and cracking ham, eggs and chips. What stood out immediately was the predominance of brown beer - Abbot (The Ram's best seller), Abbot Reserve, Morland's Original and Wherry. Woodforde's Tundra, a white IPA was the only exception. Most of us went straight for the Reserve (which might go some way to explaining the small number of venues visited on this trip) but everything tried was in good shape. It's fair to say that Brandon has been off the branch radar for a while but, thanks to Andrew and Anthony, I think we're cured.
Next, at the insistence of a local CAMRA member, we crossed the branch (and Norfolk) border to visit the The Wellington at Feltwell. The pub is named for the bomber squadrons based nearby during WW2 rather than the Grand Old Duke and there's plenty there for the aviation enthusiast including a 60' mural in the beer garden! For a more information take a look at the pub website, feltwellwellington.co.uk Meanwhile, on the bar, we found an interesting array of beer; a Wolf bitter, Buffy's Beagle and Happy Hopper, the latter one of a number of beers produced for the pub in collaboration with the Denver 2 Rivers brewery. There was also a draft cider, Once Upon a Tree's Thrown Hat. Our hosts Chris and Chris were very welcoming and happy to take the time to chat with their visitors. "I love this pub" said one of our number.
Having spent rather longer than intended in our first two stops we had to move on apace. Jude's Ferry has to be one of the most beautifully positioned pubs I've ever seen. It sits by the River Lark back in West Suffolk territory at West Row but I'm afraid it was getting dark when we arrived (even the swan was asleep) so my pictures don't do it justice. Better go and take a look for yourselves. While, I think, being more of a food destination, the pub offered Southwold Bitter and GK's Flander's Fields. Both were in good condition if a little cold.
Our last stop was Mildenhall FC's social club to present them with a certificate marking their achievement Casque Mark status. Unfortunately for us, the bar manager was away with the team (1-1 at Great Wakering Rovers in case you were wondering) but we were made very welcome. GK IPA, Hop Academy Pale and Mighty Oak Old Man and Wooden Wonder were all available.
As I remarked, not a busy trip but these are four venues well worth a look. AL 11/12/18



============================================================================================================
Seems it helps if the pub is called Five Bells judging from Andrew's latest Pub of The Month trip report:

Not a particularly imaginative trip this month, more a return to some of our favourite haunts. First up was The Five Bells at Great Cornard, our October Pub of the Month. Wendy and husband Abdou continue to do a good job of providing a rather under-served community with some quality ale. Broadside, GK IPA and XXMild and Bishop Nick Ridley's Rite were all present and correct. On the subject of the Mild, I'm only aware of four other pubs that have it on all the time - The Albert in Ely, Cambridge's Free Press, Ixworth Greyhound and Bury St Edmunds' Rose and Crown. If you can add to this list do let us know through the branch website (westsuffolk.camra.org.uk).
After a pleasant lunch we moved on to the Nethergate brewery. As you'd expect there was a wide range of Nethergate beer but the only too rarely seen Umbel Magna deserves a special mention - so fresh and clean tasting it almost poured itself! When the new brewery opened I must say I thought it looked a little like a branch of IKEA but time is having a softening effect and it was really quite cosy in there, especially as the rain was lashing down outside. Over back roads that were beginning to resemble stream we headed for Lawshall Swan. Since we last visited, the pub has added a cider pump - Lilley's Tropical on this occasion - alongside Swoon, a chocolate fudge stout from Revolution, Adnams Two Bays (an oaked pale ale) and Woodeforde's Bure Gold. Not the sort of selection you meet every day, especially in a village pub, so high marks for imagination!
It was relatively late in the afternoon when we arrived in Rattlesden to present The Five Bells with their Community Pub of the Year award. However, the place was very busy, as it usually is in our experience. Here's a question: how do you run a successful wet-led pub in a village, especially one with two pubs? Landlady Debbie told us she listens to her customers and then (here's the wise bit) selects only the good ideas! Elgood's Puff Dragon and Woodeforde's Nelson's Revenge and Wherry were being served and the prices were an eye-opener - £3.00, £3.10 and £2.80 respectively.
Beyton Bear was our next stop, where the Cannon Brewery's Broadside rivalled the Umbel Magna for Beer of the Day. It really was too close to call. Cannon Bitter and Wolf's Lavender Honey, another beer that we don't see enough of, were also available. As I believe I've mentioned before, it's nice to see a major pub refurbishment that keeps a proper bar with a dedicated drinking area and doesn't just turn the place into a restaurant.
Last stop was Thurston Fox and Hounds. There's a always a strong beer here on Pump No 1 and on this occasion it was Greene King's Abbot's Confession. I must confess I forgot to write down the other beers, that's 8.5% for you!



============================================================================================================
The August 2018 Pub of The Month is The Manger, Bradfield Combust

This is Andrew's report of what appears to have been another interesting trip.

Our pub of the Month for August was The Manger at Bradfield Combust. The village itself is often said to have derived its name from an incident in 1327 when a mob burnt Bradfield Hall. However, there are records of the name predating this so what ancient conflagration is behind the name is not too clear. The origins of The Manger itself are similarly sketchy but it is a typical Tudor building and is at least 500 years old. Nestled at the side of a busy road the pub's quaint appearance belies its true size; this was clearly one very serious piece of property back when the man with all the wives was on the throne. To be honest, this is a pub that has rather flown under the branch radar and it was high time we paid a visit especially as landlady Janice Hardy is celebrating 34 years there this year. Now that's got to be worth some sort of award. Janice and her staff provide the kind of homely atmosphere one rarely finds in a pub these days, it was rather like going for lunch in a friend's home. Formally owned by Greene King, The Manger now stocks Adnam's Southwold and Broadside plus occasional guests. I can vouch for the Broadside, an excellent pint. Janice really does seem to enjoy her work which suggests a certain inner steel - I would have expected 34 years of dealing with the public to have taken their toll but she seems to thrive on it.
After a very enjoyable meal we headed for Cockfield and The Horseshoes for more excellent Broadside. It wasn't actually on when we arrived to find Ghost Ship, Southwold Bitter and the house bitter from Black Sheep but one look at the long faces and our worthy host Lloyd sprung into action and the Broadside poured forth. We all know publicans have to be careful managing what goes on and when so we really appreciated this. Well done that man!
Onward to Aston and The Crown, a pub that, I think I'm correct in saying, hasn't caused so much as a blip on the branch radar so it was obviously high time we popped in. The Crown looks like a village pub and appears to be doing a fine job of catering to a wide range of punters. It certainly seemed to be in rude health and had GK IPA and Old Golden Hen on the bar, the latter a rare sight in these parts.
Next we headed to Cornard and The Five Bells and their beer festival. As I believe I've noted before, The Bells is an excellent boozer in an area that isn't overly endowed with pubs and it deserves support, a proper pub in my opinion and one of a very few selling GK's award winning XXMild on draft. Putting on a festival is no minor task and Wendy and Abdou desereve a lot of credit for taking the time and also for putting together an interesting beer list, mainly from East Anglian breweries but also including the rather tasty Thames Dock,a golden beer from Southwark Brewery.
On to Cavendish and our last stop, The Bull. In new hans this is a very nicely presented pub with strong emphasis on food. The bar, however, had not been neglected offering Crouch Vale Brewers Gold (another beer becoming an unusual sight on our patch these days), GK IPA and Ghost Ship. The hi-light for me, however, was the pub's sign. Although the gentleman behind the bar didn't seem too sure it looked to me like a proper hand painted job - it's even got a signature! How refreshing to see in these days when good old fashioned signs are being replaced by ones that look like they've been printed off a laptop.
So, a long serving landlady, a special delivery of Broadside, a healthy village pub, a beer festival and a proper pub sign. Another grand day out.



============================================================================================================
And the June 2018 Pub of The Month is.........The Beehive, Horringer
This is Andrew's report of what appears to have been another interesting trip.
There was time when picking a Pub of the Month was problematic, but it seems to me to be getting easier and easier to find a candidate. We now have quite a list for future awards, covering us well into next year. This month we selected the Horringer Beehive, a hostelry that many of us thought was gone forever but which suddenly arose, phoenix-like, from the ashes to become not just an open pub, but a good one. It's easy to get depressed about the state of pubs in general, and those in villages in particular, but our branch area has a number that have come back from the dead: Troston Bull, Lawshall Swan and Pakenham Fox are three other success stories.
Max and his team at The Beehive provide a good range of beers plus some very nice food - not surprising, as he has worked both at the Farmers Club and The Angel in Bury St Edmunds. On the bar on this occasion we found Mauldon's Bishop's Head, Mosaic and Freewheel from Adnams, along with ciders from Oakham and Lilleys. The Bishop's went down particularly well.

Off to Rede and the lovely Plough. Brian and Joyce have been here for over 35 years and one can see why they are in no hurry to leave. Doombar and London Pride were available and we sat out in the garden admiring the aviary. Those of you who know Rede will realise that this pub's success isn't due to passing trade; experience would seem to be the key.

On the way to our next stop, The Cherry Tree at Stradishall, I felt the same trepidation I usually do when visiting a newly reopened pub for the first time. My worries appeared unfounded and hopefully we have another success to add to the list of those in villages. Bar manager Anthony from east London told me they'd been open for just four days, but if the Broadside was anything to go by they'll be the first of many. So pleasant, that I quite forgot to write down the other beers available! Go and take a look; the view from the terrace at the back is worth the trip in itself.

Down the road at Great Wratting we found not only another good pint of Broadside but also our Dog of the Day. Hope we didn't interrupt the spaniel's intense carpet-based workout! The Red Lion has always been something of a branch favourite, a good old fashioned boozer. Along side the Broadside were Southwold Bitter and London Pride - but the big news is that landlord George is retiring. It'll be well deserved; we wish his successor, Gavin, all the best and look forward to supporting The Lion in the future.

On to the Withersfield White Horse for a pint of Robinson's Dizzy Blonde, ably supported by London Pride and Ghost Ship. We've not been here for a while and it was nice to see it in rude health, still busy late on a Saturday afternoon. We then turned back towards Bury, stopping on the way at Cowlinge Three Ways. Here we found Ghost Ship, Mauldon's Mole Trap, St Peter's Ruby Mild and Starwing's Spire Light, the latter being a new one on me. Starwing are based at Redgrave and, I believe, haven't been going for very long at all. This hasn't stopped them brewing some excellent beer, definitely a brewery to keep an eye out for.

Our final stop was at community owned Lidgate Star, yet another pub that looked in danger not so long ago. Good to see the pub being well used, Woodeforde's Red Admiral and Greene King's Bobby Moore tribute beer were both available.

I think it's fair to say that the majority of the pubs we visited on this trip have had plenty of ups and downs over the past few years, but have managed to come out on top; well done to the people who have worked so hard to make that possible. All we, the customers, have to do is to continue to support them - now, how hard is that?
February 2018 Pub of The Month is.........The Brewery Tap, Sudbury
This is Andrew's report of what appears to have been a very interesting trip.
Suffolk, being a rural county, is still not short of village pubs – but give the developers time, they're on the case. Villagers are notoriously good at verbally supporting pubs but not actually using them, so the pressure is on the publican to draw in folks from outside. Cue the pub that thinks it's a restaurant with the single GK IPA pump and prosecco offer. In better supported places you'll have various combinations of crib, darts, pool team, Sky TV, Happy Hour - all with the same target of providing something for everyone. It can't be easy running a village pub and I stand in awe of those who do. The result is that it's only in and around towns where you're likely to get really strong contrasts between hostelries, due to there being enough punters to allow a sharper focus. This was brought home to me by the branch's recent trip down Sudbury way. Take our first three in-town visits, for example.

The first stop was our February Pub of the Month, The Brewery Tap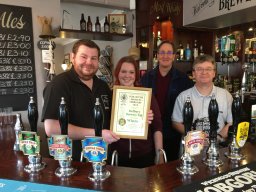 , where Jonny and his staff made us very welcome. I think this may be many CAMRA members' idea of a real pub. No frills, smell of chips or TV, but several people sitting around chatting or reading the paper while they quaffed. Of course, the Six Nations was coming up on the telly later. More regular entertainment includes the Suffolk Punch Comedy Club on the first Wednesday of each month. However, the impression is of a very civilised watering hole. This is Mauldon Brewery's tap house and unsurprisingly it stocks a good range of their beers, competitively priced, as you might expect, at £3.10 a pint. White Adder went down particularly well. Guests, at £3.30 a pint, included Dark Star's Hophead. There were several ciders too, including Gwynt y Ddraig's Black Dragon. It's always nice to see some serious cider. The pork pies were great as well.

We moved on to the newly opened, The Cyclist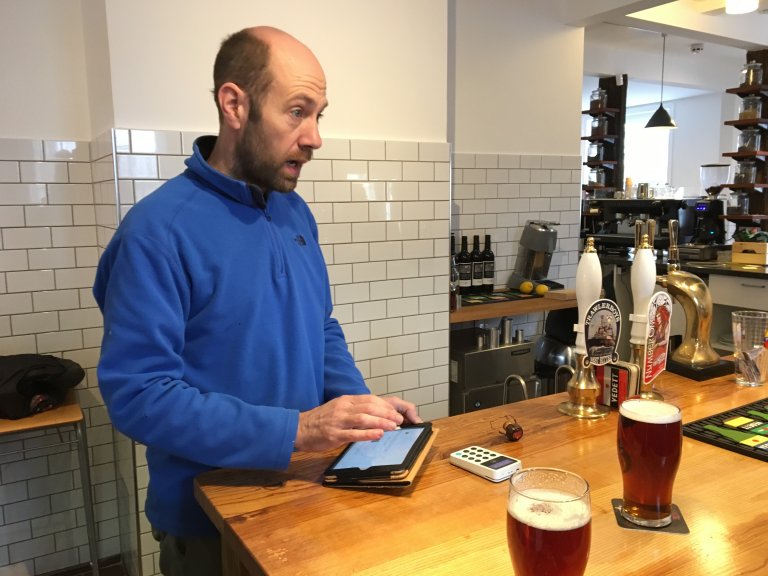 - (Theo pictured) or should that be the reopened former King's Head? Now, if I'd been looking for a contrast with The Tap this would do it. And why not? A town's hostelries do not need to be photocopies of each other. Outside, it still looks like a traditional pub, including a plaster Abbot, but inside I'd say it's more like a cafe-bar. There's a simple range of food but nothing trying to overpower the beer - Colchester Number One and Green Jack Trawlerboys. The group swiftly dispatched the latter and moved on to the Number One. Owner Theo is stocking pins in order to keep two beers fresh (the purpose built cellar should help with quality too) and looks to source them from small breweries in Suffolk and Essex. It's early days yet and this is a place that will build as the weather improves. It is, unsurprisingly, aimed partly at cyclists - with a secure bike lockup and basic tool kit available. However, the real "first", at least for me, is that it's cash-free - so take your plastic! As I've indicated, this is not a traditional pub, but I understand the previous incarnation will not be greatly missed. Go and take a look for yourself, cyclist or not.

Back into the middle of town - to the rather more established North St Tavern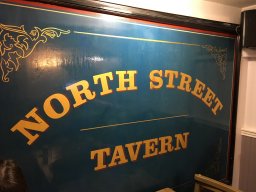 . After several orbits of the one way system our heroic driver dropped us off (one of our number was on crutches) and went in search of parking. The 'ease' of this explains why this was our only central pub - apologies to those we missed out. Opening the door, the atmosphere flooded out into the street and we found ourselves in a busy, noisy pub that could have easily been in a village inasmuch as it seemed to cater for most tastes. We took to the bar billiards table while many of the other punters continued to celebrate the win over Arsenal - the clue was the White Hart Lane sign on the wall! Beers on offer were the always-available GK IPA plus Ringwood Boon Doggle, Young's Bitter and Ghost Ship. The Tavern is run by Clare and Gary who seemed unfazed by the fact that the pub wasn't going to shut for another 11 hours (1130 - 0200 Sat-Sun!) and it was brilliant to see a pub sitting right next to a Wetherspoon's so busy. All this and they were playing The Doors too. (personally, I don't like musac when I sup a pint but this must be a quality place Ed). The prospect of an easy drive calmed our chauffeur somewhat, so we headed for Great Cornard Five Bells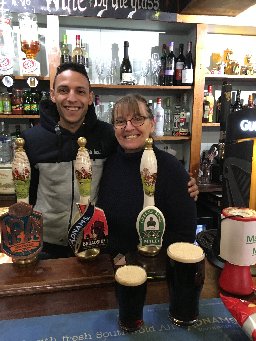 on Bures Road. We found a quieter but equally friendly atmosphere here, plus GK IPA, GK XX Mild (yippee!), Broadside and Ridley's Rite from Bishop Nick. Mulled cider was available too. Wendy and Abdou serve some nice beer and The Bells is a good place to sit down and take the weight off. A proper pub, I'd say.

Our last call was the new Nethergate brewery. There was, naturally, a good range of beer on offer served up by the charming Faith but the show was stolen by the ferocious guard dog (pictured)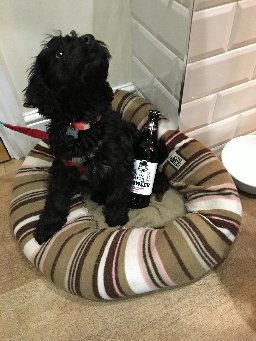 . This place is bedding in nicely and I think, once the dust has settled from the move, the brewery bar will establish itself as a sound drinkers' destination. And, of course, you can load up with bottles for the journey home!

I think this was one our more interesting trips. Five very different places, all easily accessed within a couple of miles of the centre of Sudbury and all enjoyable in their own way. Probably not quite what the Romans had in mind when they brought us the idea of the town but all hail to them anyway!
December 2017 Pub of The Month is.........Crown and Castle, Risby

October 2017 Pub of The Month is.........Plough Inn, Rede
<
August Pub of The MonthThe Bull Troston

Report of latest PoTM trip which makes this branch member wish he had been able to go and I am sure others reading Andrew's report will probably think the same
A Pub is for life…….
We weren't expecting to see much by way of pubs on this trip as the plan was to stop off at Troston on the way to a beer festival at the Larling Angel. However, the weather gods had other ideas and in the end we selected the sheltered-not-drowning option. The Troston Bull has only just reopened after an interval of several years and it is a testament to our faith in licensees Terry and Sue that we've selected them as our Pub of the Month so early on. Woodeforde's Wherry & Electric IPA, Ghost Ship and Oakham JHB were on the bar and it was nice to see a cider box nestled in the fridge. Food is currently in the form of cold snacks but more is on the way. Personally, I'm more excited about the plans for a microbrewery out back……….. Next on our itinerary was the Honington Fox, another boozer saved from oblivion, something which became something of a theme of the trip. There was a pleasingly good number of drinkers for a wet lunchtime although we did struggle to find anyone else drinking the GK IPA or London Pride. Perhaps the two noncommissioned hand pumps tell their own story. We lunched here, which was very good value, before moving over the border into Mid Anglia territory to another old Fox at Garboldisham. Many a time I have driven past here shaking my head at the sight of such a venerable pub boarded up. Help is at hand! Potential developers have been seen off and the village is now refurbishing and staffing the bar themselves. Opening hours are understandably limited at the moment but hopefully, they'll extend as work progresses. Currently they're Friday 5-10pm, Saturday noon-10pm and Sunday Noon-5pm. Beers were from Adnams, Hoxne, Boudica, Lacons & Old Chimneys, a very respectable range. Sloppy reporting resulted in the beers not being precisely recorded. (Perhaps you can make them out in the picture?) Next up was another Mid Anglia pub, The Vine at Hopton. Beers included GK Abbot, Adnams Southwold and Broadside, Boudica Golden Torc (Beer of the Trip, in my opinion) and Wherry. Two real ciders were also on offer, Weston's Rosie's Pig and Old Rosie. This was a real rarity; a village pub full of lunchtime drinkers and not a plate in sight! Well done Hoptonites! Back over the border it was time to check out a couple of pubs the branch has been meaning to drop in on for some time. First The Blue Boar at Walsham le Willows. EIGHT ciders, including Rosie and Black Dragon! I was so excited I forgot to record the beers. Moving swiftly on, we dropped by the White Horse at Badwell Ash. GK was not admitting to responsibility for Bermuda Joe's (Golden beer with a pineapple twist, no less), at least not on the pump clip, but GK IPA and Adnams Regatta were provided for the more traditionally minded. Finally, our third Fox of the day, at Pakenham, and yet another one that had fallen on hard times until recently. Nick, Sheila and staff have done a tremendous job here and it's getting hard to find anyone who hasn't both been out there AND been impressed. Business should continue to boom now they have a regular food offering, check the website for details. On the bar with the usual Wherry and Nog were Broadside and Mighty Oak's Kings. The Broadside was only just nudged out as Beer of the Day. Thus ended another beer odyssey but what an encouraging day! Any pub that doesn't make a minibus load of affable drinkers welcome is admittedly unlikely to be around for long but yet again we were impressed by the way we were received at all of our stops. Better still, it's wonderful to see pubs back from the dead. A special thank you to all those worthy people whose hard work has made this possible. And to all of those people who've seen their locals reborn, remember……….they're not just for Christmas.
June 2017 Pub of the Month June Pub of the Month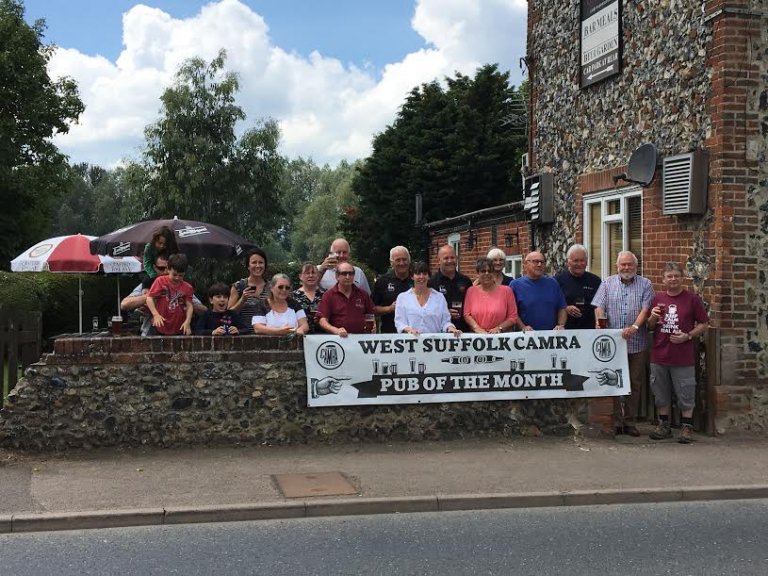 Report by Pubs Officer Andrew.
Doesn't seem five minutes since the last POTM trip. Finding ourselves a little on the early side we decided to have a quick one in Bury and where better than The Rose & Crown in Westgate Street? Landlord Tony was only just opening up – 11.30, none of this noon nonsense here. As usual the beers were in cracking form including a range of GK and three guests. I won't list them all but it's always good to see a pub serving GK Mild. Our next port of call was out of town at Risby's Crown & Castle. It's surprising how few people in Bury are familiar with this well established village pub and it deserves more visitors from the town. Malcolm and June always keep a good pint; the usual Adnams Southwold was on plus Hook Norton's Hooky Gold (4.1%). The latter has a very nice balance to it rather than being just another gold and hoppy beer. The branch Pub of the Month is The White Hart at Tuddenham. Paul, Rebecca and family are doing an excellent job here and we're pleased to be able to show them our support. Lunch was washed down with Woodfordes Once Bittern; GK IPA was also available. (Paul has had an email problem; please note the new address is moc.liamg@mahneddutbuptrahetihweht). I was particularly taken with the rather elegant pub sign, not exactly Signzilla but rather stylish. Next stop was The Swan at Exning. This is a pleasant enough pub but would be more so with a little less intrusion from the TV. However, the locals seemed happy enough and it was nice to see a cider (Cambrideshire's Farm House, a medium 4.9%) on the bar along with GK IPA and Wells Bombardier, all served up by the lovely Sharon. Just up the hill is the The White Horse, a serial GBG entry where Landlord John greeted us warmly and kept up a steady stream of stories as we drank. Youngs Special, Black Sheep Bitter and Shepherd Neame Spitfire were all available. There are usually a couple more but I think the village had been on good form the previous evening!
This close to the border we thought we should take a look over the fence at the George & Dragon at Snailwell. A nice pub with a beautiful garden which we took full advantage of; it was almost tempting to take a dip in the Snail. The July 1st Beer Festival has a great venue here. Bombardier, Doombar and Green Jack's Trawler Boys were on the bar with the latter being generally considered Beer of the Day. Impressive, as the G&D also won the Pub Sign and Dog awards – Oscar and Little Ted tied in the latter. Onward to The Tharp Arms at Chippenham. This former GK house has been bought by several members of the local community and looks very much on the up. The charming Beverly offered us a choice of GK IPA, Wherry and Timothy Taylor's Landlord. We all went for the latter and it was in good form. A friendly gentleman at the bar informed us that "this is a drinkers' pub" and we'd agree, although there are snacks available. Good to see a pub in such good health when so many similar ones are long gone - another nice garden too. Back on home turf we stopped off at The Walnut Tree in Worlington, Wherry and Fuller's London Pride were the choice here. It's a pleasant place to have a drink but we were less impressed by the £2.05 price tag on a half. Any financial concerns were laid to rest by the bar at Mildenhall Football Club.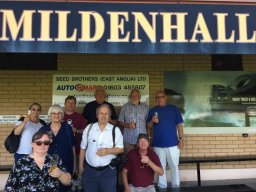 We've been hearing good things about this place for ages and it was about time we investigated. My Abbot was, if I remember correctly (things were getting a little fuzzy by this stage of the day), £2.50 a pint. There was also Saltaire Sir Titus (3.8%), Ghost Ship and Old Rosie cider all expertly poured by Tirena. This would be a splendid place to while away an afternoon, especially if there was a match on, live or TV. It was a bleary eyed crew that arrived back at our Hospital Road drop-off. However, showing a dedication to the cause bordering on the reckless we decided to have just one more, this time in The Dove. We were rewarded with a sighting (and sampling) of that rarest of beasts, draft Green King Strong Suffolk. Lovely. Thanks to everyone who turned out but especially to Martin our heroic driver. Cheers!
April 2017 Pub of the Month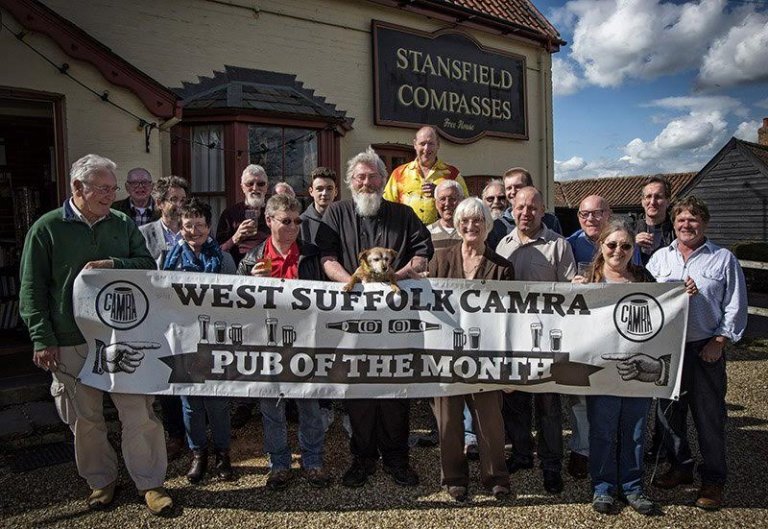 For more info click here:- Stansfield Compasses. Pictured above Tony Hood (Landlord) in center and Rupert (the pub dog) and West Suffolk CAMRA branch members.
How Andrew our Pubs Officer remembered where we had been for this mam>oth POTM trip I don't know but here did and here's the proof.
A splendid April 1st and off we go to fool around in some of Suffolk's Finest! First up is The White Horse at Whepstead where landlord Lee has graciously opened early for us so we can make a flying start. Ghost Ship, Wherry & Nethergate's Essex Borders are on the bar and it's nice to see the pub in such good fettle. This was a place in danger of becoming a restaurant until Lee and family moved in last year, now it feels like a pub again. We'd all have liked to stay longer but duty called.......

On to The Queen's Head at Hawkedon where a vintage car rally has broken out and quickly distracts our numerous petrol heads . Inside we find Calvors Session IPA (possibly the Beer of the Day), Ghost Ship, Adnams Best and Wherry. And cider! We got to pick from Orchard Pig's Philosopher, Old Rosie, Glebe Farm Side-R and Snails Bank Pineapple & Pink Grapefruit. This appeared to be a pub having a real return to form but lunch was calling. Dragging some of our number away from the cars we headed off to the POTM Stansfield Compasses, where landlord Tony has been busy tweeting his Pub of the Month award; it's nice to see it being valued so highly. His microbrewery is up and running and he caused something of a stir at the Colchester Beer Festival, apparently. Nobby's Gold (5% abv) went down very well; there was also a tub of the rarely sighted (at least around here) Shepherd Neame Master Brew. Fortunately, having lunch here meant we could linger over several pints. It was an already oiled crew who were fork-lifted back onto the minibus.
The Rose & Crown at Hundon was our next stop. Courage Bitter, Doombar, Nethergate's Suffolk County and TT's Boltmaker were on offer. The latter was in particularly good nick. Always worth while having a look around at the aircraft pictures in here. They also had a pump clip for Nethergate's Azzanewt, one of the best I've ever seen and hopefully pictured here.

On to The Cock at Little Thurlow - a first for most of us. While looking arguably more like a restaurant than a pub, there was Doombar and Exmoor Fox on the very leanable bar, I'd not met the latter before and it went down very well. A beer festival is planned for later this year so keep an eye out for that.

Great Wratting Red Lion was next, and as usual George was offering up a good pint of Broadside along with Southwold Bitter and Doombar. It says a lot about this pub that whenever our trips take us down this way The Red Lion is always on the agenda.

As you can see, this excursion was taking on Odysseian proportions. We didn't expect to visit the Cowlinge The Three Ways as it doesn't open until 5pm on Saturdays, at least at this time of year. However, time had fled and we were able to pick from St Peter's Best, Woodfordes Simcoe Pale, Ghost Ship and Colchester's Sweeney Todd.

There was no stopping us now. The Lidgate Star, now a community-run pub, was next. We've rather dropped out of touch with The Star lately and it was good to reacquaint ourselves. A Woodfordes beer went down well but I'm afraid I can't read my notes for this part of the trip, something must have been rocking the bus.......

Penultimately we landed at The Fox at Ousden. This pub has recently changed hands and all seems to be running smoothly. GK IPA, Southwold Bitter, Wherry and Nethergate Drunken Monkey were on the bar.

Finally, we made it back to Bury St Edmunds and our Pub of The Year, The Dove, with its ever-changing range of beers and ciders. Roger and Bernie have finally bought it from Greene King; the dancing in the street was still going on!

I think this was one of our best outings ever. Quite apart from the excellent company it was really encouraging to have such a positive reaction from the landlords and staff we met. Lots of information was exchanged and a good time had by all. Cheers!
If my maths is correct I make that 10 Suffolk Pubs visited which will be hard to beat on future POTM trips but I'm sure we'll try - Ed
February 2017 Pub of the Month - Pakenham Fox
for more info click pub name

The Fox in Pakenham reopened in August 2016 and, in recognition of its success, was selected as Pub of the Month for February 2017. On Saturday 4th February a packed minibus set off from Bury to present the award, also visiting Ixworth Greyhoundto present an award for 35 years of service to real ale and the local community.
Our first stop was the Dun Cow at Bardwell another fine village local and long standing good beer guide entry. Here we enjoyed a quick beer as always in fine form before moving on to The Greyhound in Ixworth for lunch and to present the long service award. Colin and Sue Pearce have been landlords of the Greyhound for 35 years, a remarkable achievement. Even more remarkably the pub has raised many thousands of pounds for charities and the pub is recognised as the true heart of the village community. We enjoyed the fine range of beers, including the rarely available Greene King XX Mild, in addition there were ales from GK and further afield. This washed down the delicious home cooked and very good value food - a good time was had by all.
For our second award of the day we moved on to The Fox in Pakenham. The village pub reopened in 2016 after several years of closure, and is already making its mark as a thriving hub in the community. As recognition of this success the branch decided to award the February pub of the month award to the Fox and the team enjoyed a choice of real ales from Woodforde's (Wherry and Nog), Mighty Oak (Kings) and current guest ale Shortt's Farm's Skiffle. All in good order and served in the pleasant surroundings of this warm, welcoming pub. The remainder of the trip saw a whistle stop tour of the local pubs including Beyton, The Bear Inn, currently being refurbished by its new owners, Thurston Fox and Hounds, Rougham The Bennet Arms and finally the The Moreton Hall in Bury.
We are looking forward to our next trip in April when we will be heading out to the south west of our branch area.
Please book early to avoid disappointment; contact ku.gro.armac.kloffustsew@laicos