Nostalgia - Pubs we have lost
This page is intended for members' stories about pubs, the characters that used them or any related topic. We would like to add your stories here so please get in touch
ku.gro.armac.kloffustsew@retsambew

Did you visit The Griffin in days gone by or did you work there?
We have received an interesting post from Hugh Sawyer who used to manage The Griffin Bar and Restaurant (now Edmundo Lounge) on Cornhill in Bury St Edmunds in the 1960s.

Hughs memories tie in with the webmasters own recollection C1966 further down this page

This is Hugh's recollections of those days

I sure did - in both 1964 and later in 1966 when it was owned by Purdys the bakery, who were based in Great Yarmouth, I believe.
For my second stint at the Griffin, I returned (in 1966) as Manager of the bars and restaurant, whose format was based on the popular Berni Inns. There were three bars: an ordinary public saloon with wooden floors, that missed only conventional sawdust. Adjacent was the lounge bar, wherein customers patiently (well, not always) waited for their table in the restaurant.
Downstairs was the Cellar bar, hosted by a good-looking lass, who inevitably attracted less desirable patrons. Indeed, one evening, I received an urgent call from her. She was complaining about unwanted attention from one of the frequent (mainly Irish) labourers who worked in the neighbouring sugar beet fields.
Revealing my unworldy innocence, I dashed downstairs and asked the fellow to desist. The next thing I recall was a fist in my face. The miscreant ran off, as I 'phoned for the police, who later - with me in the back seat of their patrol car, toured the streets of the town, trying to spot the villain.
Those were the days when the local constabulary responded to pleas for help; nowaday, a crime number is all that you are likely to get.

The restaurant was always popular, serving what now seems an almost historical menu. Fried scampi, mixed grill, peach melba, all preceded by a glass of amontillado sherry. How we got away with serving the poor quality steaks remains no mystery to me. I remember that the company had a contract with some butcher who cut up some rough rump steaks which were then supplied frozen. As part of our instructions, we had to 'marinate' the dark-looking meat in monosodium glutamate powder, presumably so as to try and impart some flavour into the flesh.
Ghastly.
I recall that our beer was supplied from Tollemache Cobbold brewery, which was taken over by Ridleys (according to Google).
I keep meaning to return to Bury St Edmunds but then, a trip down memory lane is not always worth it.
Regards
Hugh SAWYER
The White Lion and The Elephant &Castle, Bury St Edmunds.
Member Richard recalls the days of The White Lion stood in Brentgovel Street but was demolished years ago. Richard remembers it being run by a Mr (George?) Taply who allowed the market traders to store their gear in the back yard. It was a Greene King house with a rather doubtful reputation. Sitting sipping your pint it was apparently nothing unusual to see a glass, often a full one, go sailing past. Richard's strongest memory, however, is of the two regulars who had at some point taken a distinct dislike to each other. Most Saturdays they could be found fighting in the doorway only to politely stop to let anyone in or out of the pub. Remember the Fools & Horses episode where the rioters stop just long enough to let Del through in his van? The Trunk, as the Elephant & Castle was always known, is now an undertaker. Back in the day it held memorable New Year's Eve parties that would go on well into the early hours. Richard remembers meeting the milkman on his way home at four or five in the morning! As a young man he recalls it being known as a reliable source of out of hours drinks, for a liberal approach to hygiene and usually having a goat tethered out the back. Much later, under the auspices of landlord and lady Terry and Jackie Moriarty the Trunk was a perfectly respectable establishment. However, Terry was driven to distraction by people using the pub car park when they were either going shopping in town or, more often, using the West End Chippy. He attempted to solve the problem, with some success apparently, by ground-breaking (for Bury) use of CCTV and an occasional resort to clamping!

Ed. note. The White Lion closed in 1970s and stood on corner of Brentgovel and Short Brackland and was demolished either before or during redevelopment of the Odeon Cinema into what is now Cornhill Walk Shopping Center which has itself closed and is awaiting redevelopment.
Elephant and Castle closed in 2012. Pictured looking good in 2006 and as it now looks
The Griffin, Cornhill, Bury St Edmunds
Back in the sixties, I think I remember The Griffin located on the corner of The Cornhill and Brentgovel Street in Bury St Edmunds as a "Cellar Bar". The bar formed part of the Friday/Saturday night drinking scene for local youngsters as there were no nightclubs in Bury St Edmunds then, or if there were I don't remember. If we wanted nightclubs we usually travelled to Norwich, Samson and Hercules being one. I don't remember The Griffin as a pub serving beer as on nights out most of us were drinking Bacardi and? which we thought made us very sophisticated at the time, however, another branch member has told me that, at that time, The Griffin had a bar and restaurant on the ground floor as well as the cellar bar but I only remember the latter. Maybe it was a rural version of a sixties cocktail bar.
Postscript: Recently my coffee drinking wife persuaded me to join her for a coffee at Edmundo Lounge, a bar/cafe which now occupies premises where The Griffin used to be. Talking to the manager about my remembering drinking in the cellar bar I was told the cellar bar still exists, although not in current use. Who knows one day I may get the chance to reminisce over a pint or two in the old bar once again, you never know.

(C) August 2017 Mike Shave WSC Member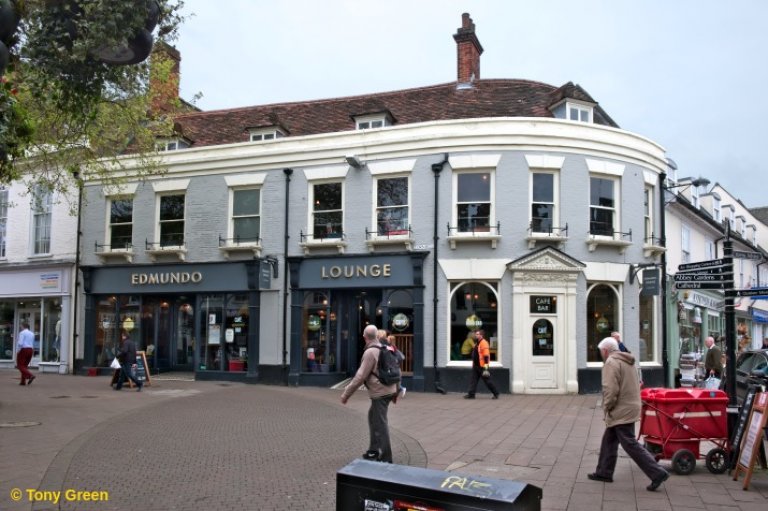 Picture is of The Griffin as it is in 2017 Edmundo Lounge
Did you visit The Griffin in days gone by or did you work there? Do you have any photographs of the place? If you have any recollections or information about The Griffin or any other local pub open or long since closed we would very much like to hear about it for publication on this Branch web site: https://www.westsuffolk.camra.org.uk/ We're all getting older and the memory may not last much longer so please get in touch asap. Email:
ku.gro.armac.kloffustsew@retsambew
The Black Fox Thurston
In our grandparents' generation Taverns and Inns were, in the main, found in towns and cities although some could be found alongside the major turnpikes. But for us rural folk in search of Ale to quench our thirst after a long hard day in the fields, it was quite often found in what was a house belonging to the brewer/and or landlord where the Ale would be served in the front room. A good example of this is The Black Fox Thurston which unfortunately closed in 1991 and is now once again just a private house.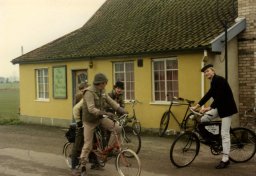 Cyclists from Dagworth & District Gentlemen's Cycling Society. Photo believed taken on 3rd January 1988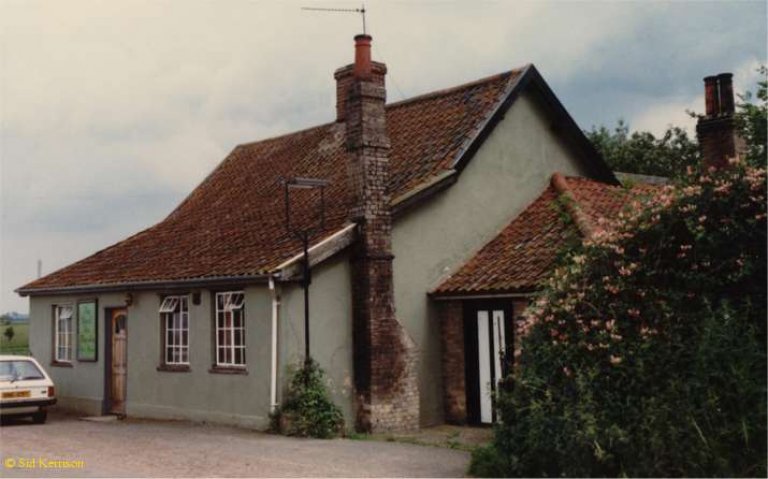 C1988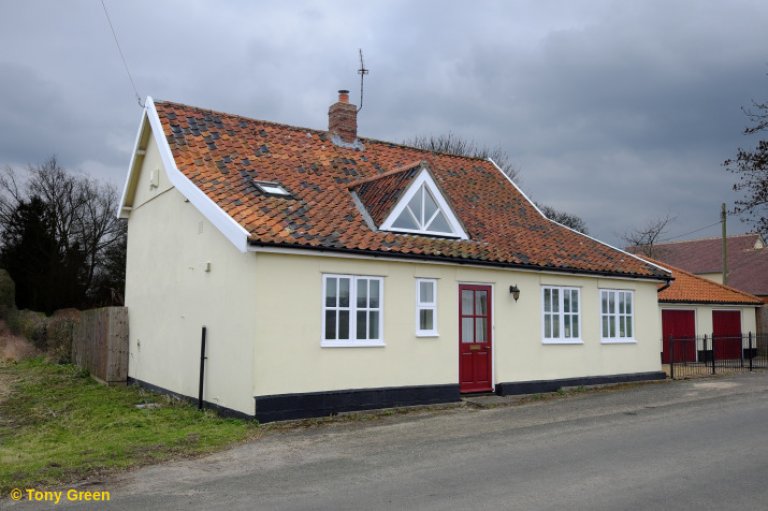 Now private house
My memory of The Black Fox goes back to the 1970s. some of us from Thurston Tennis Club would, after finishing playing tennis in the evening, sometimes adjourn to this pub where the beer was from a jug brought through from the back and served in what was the front room. Our more usual pub haunt at the time, and closer to the tennis courts, was The Victoria (locally knows as The Fly) where landlord Terry would keep us in order until well after closing. In those days The Fly was heaving with customers on most days of the week.
A little known fact about The Black Fox is that it was once home to a NEWS OF THE WORLD INDIVIDUAL DARTS CHAMPION
The "News of the World" tournament began in 1927 and was originally a London competition. It then expanded to become one of the World's biggest darts tournaments. It is said to be one of the hardest competitions to win as the format was best of three legs, the same as played in most pubs around the country. The competition originally ceased to be played in 1990 although it was resurrected for one final season in 1996/7. The Black Fox had its own winner of what was, at the time. the most prestigious prize in darts. He was local lad Trevor Peachey who beat Les Campbell of The Boot Inn, Dinas, Glamorganshire 2-0 in 1955/56
(C) 2016 Mike Shave WSC Member