BEER FESTIVAL COMES TO THE RESCUE OF A DAMSEL IN DISTRESS
Thursday 18 February 2021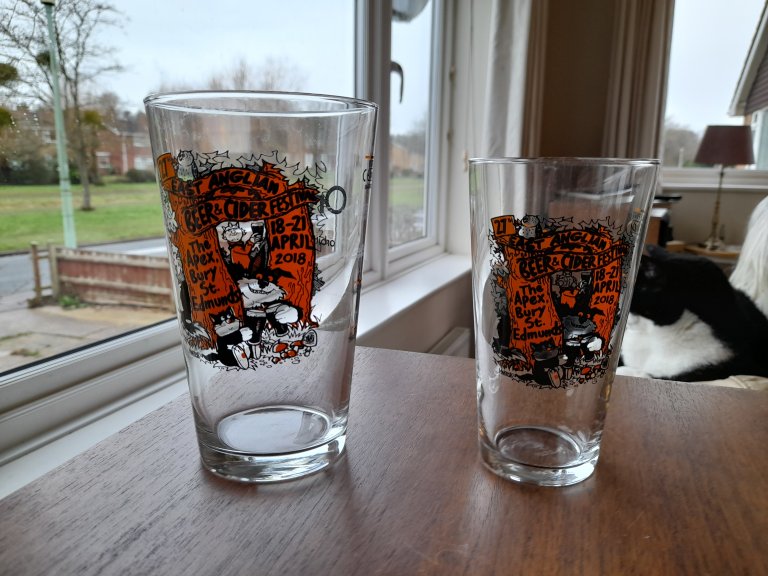 Despite having planned an even bigger and better beer festival to be- held at the Apex last April, sadly all the hard work by the organising committee was undone by COVID-19. lockdowns. Like so many annual events that we have become accustomed to, and probably take for granted, the 2020 event had to be cancelled.

However we still have a Festival website and a lady called Judy used it to get in touch with a request as follows

"I wanted to email to ask if there is any way of purchasing branded glasses from previous years festivals? I had a 2018 beer festival glass as the event was a special and prominent date in mine and my husbands lives but it very sadly broke a few months ago! I'm thinking it's unlikely now but thought it'd be worth the ask!
Thank you, Ruby"

I suspected we had sold out of 2018 glasses but sent Ruby's request to branch officers expecting this would draw a blank and anticipated it would require a request using the branch social media channels to have any chance of finding Ruby her glass.

However, it turned out I need not to have worried as, within a couple of hours, our Festival chair Martin got back to me saying he had a pint and half pint glasses from 2018 and that Ruby could have both.
I relayed the good news to Ruby who said she was chuffed.

Hopefully, by the time you read this, the replacement festival glasses will be safely in Ruby's hands. One good deed, as the saying goes, deserves another. In appreciation of getting a glass back Ruby also kindly made a donation to our nominated festival charity St Nicholas Hospice Care so a win win all round,

So despite being cancelled our festival still came to one visitors rescue and alls well that ends well.
And the reason Ruby and husband, who are regulars at our past festivals, were upset at breaking their original festival glass?

In Ruby's own words "It's not the most interesting of stories but after a couple of beers at the festival in 2018 we found out I was pregnant with our first child! So we hold the memories very dearly of that night!"

Well Ruby we think its a lovely story and were glad we were able to help keep your happy memory of our 2018 festival alive and we look forward to seeing you and your husband at this years festival, coronavirus permitting.


If you have happy memories resulting from visiting our East Anglia Beer and Cider Festivals down the years, it doesn't have to be about discovering you were pregnant, it might be you met your significant other half but, whatever it is, please share with others by dropping an email to ku.gro.armac.kloffustsew@retsambew and help bring back more happy memories of how life was before COVID-19
©Mike Shave Webmaster Feb 2021.